The UK used car market rose by more than four per cent during the second quarter of this year, the SMMT said today.
A total of 1,832,267 vehicles changed hands – a 4.1 per cent rise that equated to 72,583 extra transactions versus April to June 2022.
The upswing reflected sustained growth in the new car market and improving availability, said the SMMT.

The easing of supply chain disruptions has driven sales growth in every month so far this year, and although the Q2 total is almost 10 per cent below 2019's figure of 2,034,236, recovery is continuing, said the trade body.
Used battery-electric vehicle sales continued to rocket during April to June, growing by 81.8 per cent to 30,645 units and setting a new market share record of 1.7 per cent – up from 1.0 per cent last year.
Plug-in hybrids and hybrids were up 11.4 per cent to 18,437 units and 29.5 per cent to 53,634 units respectively.

The rising proportion of electrified vehicles meant that market share for conventionally powered cars fell to 94.3 per cent from 95.7 per cent during the same quarter last year.
That was despite petrol and diesel cars seeing growth of 2.5 per cent and 2.8 per cent respectively.
The six months to the end of June saw 3,679,416 second-hand cars sold versus 3,534,035 year on year.
As with the second quarter, that was also a 4.1 per cent increase – but, said the SMMT, that was still 9.2 per cent below 2019's pre-pandemic first-half figure of 4,054,380.
Superminis remained the best-selling used vehicle type over Q2 of 2023, comprising 31.5 per cent of transactions and growing by 4.4 per cent to 576,980 units.
Black kept its position as the most popular colour choice for the 10th quarter in a row, with more than one in five (21.3 per cent) transactions at 390,909.
It was followed by grey and blue in second and third places with 16.9 per cent (309,623) and 16.3 per cent (299,068) market shares respectively.
The south-east of England enjoyed the most sales at 275,105, followed by the north-west of England and West Midlands at 193,972 and 185,087 respectively.
SMMT chief executive Mike Hawes said: 'It's great to see a recharged new car sector supporting demand for used cars and, in particular, helping more people to get behind the wheel of an electric vehicle.
'Meeting the undoubted appetite for pre-owned EVs will depend on sustaining a buoyant new car market and on the provision of accessible, reliable charging infrastructure powered by affordable, green energy.
'This in turn will allow more people to drive zero at a price point suited to them, helping accelerate delivery of our environmental goals.'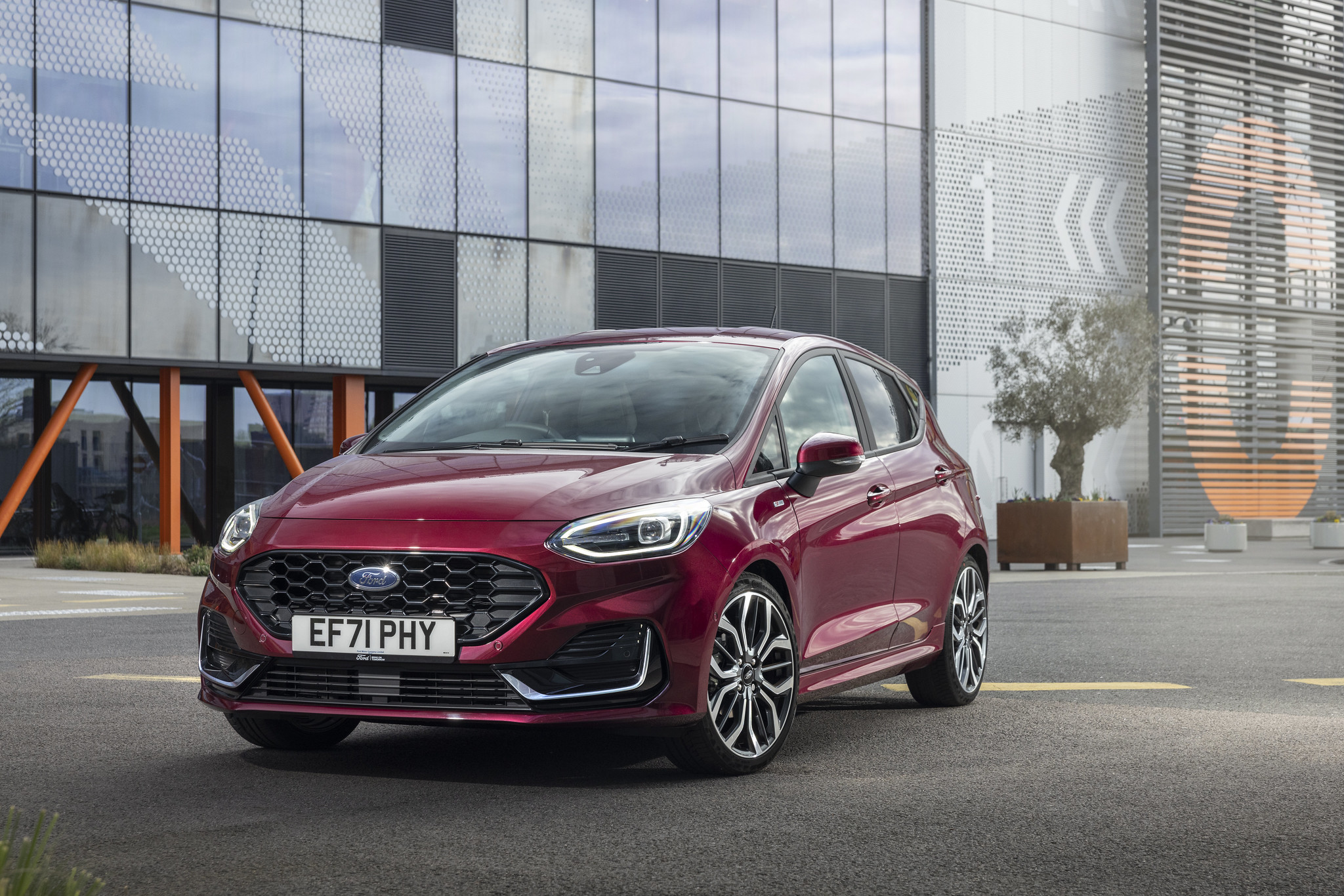 Top 10 used cars of 2023's second quarter
Ford Fiesta: 75,378 transactions
Vauxhall Corsa: 59,113
Volkswagen Golf: 57,567
Ford Focus: 55,592
Mini: 41,871
BMW 3 Series: 40,735
Vauxhall Astra: 40,442
Volkswagen Polo: 34,094
Audi A3: 30,421
Nissan Qashqai: 30,112
Source: SMMT
What the industry says
Ulez expansion will mean more trade-ins
With wait times for new cars easing, more people are selling their current cars to get their hands on something fresh off the production line.
This has naturally led to a steady supply of high-quality used cars hitting the market and with it, some great deals for savvy motorists.
The number of cars sold on Motorway over this period hit new highs, increasing by 67 per cent versus the same quarter in 2022.
With used EVs now representing a record 1.7 per cent of the market, it is clear that EVs are here to stay, with smart consumers opting for used electric cars.
And with the Ulez expansion around the corner on August 29, we will definitely see more car owners across London and the south-east trading in their non-compliant models for compliant petrol, diesel and hybrid models.
If EV prices continue to stabilise, we expect to see even more drivers make the leap to EVs in 2023, too.
Alex Buttle, co-founder, Motorway.co.uk
Solid trajectory for future healthy sales levels
The rapid growth in second-hand electric cars, also seen by record levels of demand on Auto Trader, is encouraging as more consumers identify pre-loved electric vehicles as a more affordable route into electric ownership.
The influx of supply at the back end of last year has continued throughout H1, which meant a decline in used car prices but a welcome boost in choice for consumers.
We anticipate the used EV market stabilising now in terms of prices.
The supply of used cars has been slow to return after the Covid pandemic hit new car sales, but as it does return we're seeing that available stock is selling well and quickly – in fact, cars aged five to 10 years are selling in just 28 days.
This speed of sale is reflective of the strong levels of demand we're seeing on the Auto Trader site, with overall audience up 17 per cent year on year in July, which follows eight consecutive months of growth in site visits.
This level of demand provides us with a solid trajectory for healthy levels of sales in the coming months.
Ian Plummer, commercial director, Auto Trader
AFV demand will increase
Although well-documented supply constraints and production issues have eased, the cost-of-living crisis is having a prolonged effect on consumers' buying plans for new cars.
However, recovering production levels has led to an influx of much-needed stock into the second-hand market, which is reflected in strong Q2 used sales figures.
The introduction of the Ulez expansion in London and the likelihood of other cities adopting similar schemes could have a further impact on used car sales.
As consumers look for compliant vehicles, many will turn to the used market in order to save money compared with purchasing a new car.
This should also make alternative fuel vehicles accessible to consumers, as more have come on to the used market and sales have increased.
As we approach the 2030 ban on new petrol and diesel vehicles, dealers will need to utilise tools and insight to cater for an increase in AFV demand.
Lisa Watson, director of sales, Close Brothers Motor Finance
Cause for optimism about road ahead
The used car market has shifted into high gear, with sales continuing to surge in Q2 and building on the momentum generated at the start of the year.
The strength of used sales in the first half of 2023 is cause for optimism about the road ahead
Separate SMMT data shows that new car sales have risen for 12 months in a row, and in many cases these cars were bought to replace an older model – meaning more used cars will make their way on to dealer forecourts in coming months.
The increased supply of second-hand cars is also helping to stabilise prices, offering budget-conscious buyers a more affordable alternative to a brand-new vehicle.
AA Cars data shows that the average price of the UK's most popular used cars fell by 1.9 per cent from Q1 to Q2, meaning there are some great deals available. At the same time, demand is strong, with the number of visitors on the AA Cars site up in Q2 compared with the same period last year.
Mark Oakley, director, AA Cars
Early EV adopters will bear cost of price normalisation
Used car demand remains strong, with prices normalising after spiking during the pandemic years of lower supply into the market.
This is good news for buyers, especially for electric cars which have seen significant price drops in recent months as a result of supply coming back into the market, and price wars on new models pushing second-hand values down further.
Early EV adopters who bought at the peak of the market will bear the cost of this price normalisation.
Greater affordability continues to drive EV uptake, but the ability of households without off street parking to charge near their home remains a major barrier to higher levels of adoption.
Installing more public charge points is key to greater EV transition – as is the speed and cost of using them.
Chris Knight, UK automotive partner, KPMG