What a joy – I felt at home in Kate and Wills country
THIS month was very exciting for me as I went on my first car launch. The location was the picturesque New Forest, and to get there I was given the keys to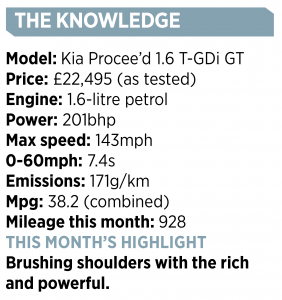 our Kia. I knew the Lime Wood Hotel I was staying at was going to be posh, but I didn't realise quite how posh – it was the sort of place Wills and Kate would be in awe of.
I left the Kia parked overnight next to a British Racing Green Aston Martin DB9 and a Range Rover Sport. It was a very good-looking car sandwich…

Launch done, I got to take the Kia for a proper drive around Hampshire. It was coming off a roundabout heading towards Southampton when I finally got to put my Chelsea boot (bought for posh launches) down. The Kia responded quickly and sprang into action, eager to impress as I revved through the gears.
And impress it did. The car can really shift and it makes a great sound as well!
One thing I did expect was a sat-nav, and not having one was a bit of a bummer! But it shows how good the Kia was that even without a sat-nav I still really enjoyed it.