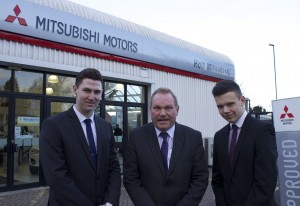 HOLT Mitsubishi in Derby has taken on two new apprentices as the company looks to invest in talented young people following recent success.
The dealership, in London Road, Alvaston, has been open for two years, during which time it has seen a huge rise in sales.
To meet the increased demand, Chris Newnham and Brandon Thorpe have been hired as apprentice sales executives.

Sales Manager Kayley Bailey said: 'I am thrilled to offer this opportunity to two local young men who have earned apprentice roles here at Holt Mitsubishi. The two of them will study while they are working, with a view to gaining full-time permanent employment here at the end of the 12 months.
'We wanted to support young people and this is an opportunity for them to learn about a role they perhaps might not have been able to gain experience in elsewhere.'
Chris, 22, a former restaurant manager from Smalley, said: 'I wanted a new challenge and I'm so excited to get this opportunity. Every day has been different so far and I have enjoyed every minute of it.'
Brandon, 17, from Mickleover, added: 'This is something I have always wanted to do. I had struggled to find an apprenticeship in this area so I'm really pleased. It's the perfect job for me.'

MORE: Lord Mayor is going green – in a LEAF
MORE: BCA appoints HPI as data partner
MORE: Car Dealer Power – the survey that puts you in the driving seat