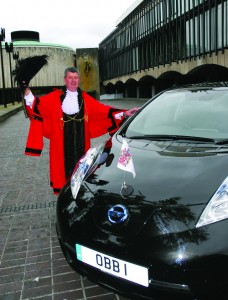 THE Lord Mayor of Newcastle-upon-Tyne has gone green… in a LEAF.
Councillor George Pattison is believed to be the first mayor in the country to switch to a pure electric official car.
The old petrol-driven mayoral limousine has been traded in and the council's chauffeur will now transport the city's first citizen in a Nissan LEAF that bears the Newcastle coat of arms, a city council flag and the area's oldest number plate, OBB1.

The council says the car switch is part of its commitment to sustainability, the environment and delivering maximum value for taxpayers.
The all-electric Nissan LEAF has been supplied by Benfield Motor Group, the nort-east's largest motor retail group.
The council should enjoy significant savings thanks to the LEAF's ultra-low running costs of just 2p per mile. In addition, the LEAF  – the world's bestselling all-electric car – is built at Nissan's record-breaking Sunderland plant, helping to secure thousands of jobs across the nort-east.
New electric car-charging points are to be installed at the Civic Centre and Mansion House, the Lord Mayor's official residence.

Mayor George Pattison said: 'Trading in the previous vehicle for the Nissan LEAF is a tradition we are happy to break, as we go in search of savings wherever we can find them and continue efforts to reduce our carbon footprint. The car has zero emissions and it costs virtually nothing to run, so it's an excellent addition to our growing fleet of electric vehicles. And with the flag, crest, and plates attached, it really looks the business, too.'
Colin Pybus, the operation director for Benfield Nissan, said: 'We are delighted to support the Lord Mayor and City of Newcastle Council in their quest for a greener city and environment.
'Benfield is a family business based in Newcastle and we are very proud to handing over the keys of this locally-built Nissan LEAF to the Lord Mayor.
'We are sure this high-profile partnership will heighten the awareness of the Nissan LEAF and the many benefits associated with electric motoring.'
With more than 120,000 sold worldwide and 4,000 sales in the UK, the Nissan LEAF is a global leader. It can cover up to 124 miles on a single charge and can be charged from zero to 80 per cent in 30 minutes.
MORE: BCA appoints HPI as a data partner
MORE: CDPower: the survey that puts you in the driving seat
MORE: BCA records highest-ever average used-car value in 2014