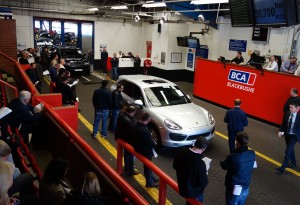 AVERAGE used car values continued to climb in the wholesale sector during 2014, according to the latest full-year figures from the BCA Pulse report.
Across the board, the average value of a used car sold at BCA last year was £7,622, a rise of £566 compared to 2013. It is the highest annual figure on record at BCA.
Over the last five years, average values have consistently risen year-on-year, by 1.3 per cent in 2011; 4.7 per cent in 2012; 13.8 per cent in 2013; and eight per cent in 2014.

Average age and mileage declined for the second year running, reversing the trend seen at the start of the decade. Performance against CAP Clean was marginally higher compared to 2013 and was the highest average annual figure recorded in the past five years.
Tracking monthly values, 2014 outperformed 2013 in every month. Values began to increase significantly from the end of 2012, and many record monthly values have been established in the intervening two years.
BCA's UK operations director, Simon Henstock, said: 'In terms of the used car market, the relative shortage of stock – a result of low new car sales over several years following the onset of recession – has helped keep values high. However, new car volumes have improved notably in 2013 and 2014.'
Henstock added: 'Demand in the wholesale sector is ultimately driven by the needs of motorists. Rising confidence and the ''feel-good" factor are important to consumers and notably more so when purchasing big-ticket items.

Substantial value increases
'An improving jobs market, a stable economy, historically low interest rates and low inflation have given people in work the confidence to make those bigger purchasing decisions and we have seen strong new and used car markets over the past two years.'
Corporate fleet stock, dealer part-exchange cars and nearly new vehicles all showed substantial value increases compared to 2013.
Fleet and lease values improved by £566 to £9,455, a rise of 6.3 per cent, with age remaining static at just under 40 months, and average mileage increased by around 1,000 miles to 46,700. Performance against CAP Clean fell slightly to average 96.55 per cent across the year.
The average sale price compared to original cost new improved slightly to 42.39 per cent in 2014, from 42.13 per cent the previous year.
Dealer part-exchange values rose by £309, an 8.3 per cent improvement over values recorded in 2013. Average age at time of sale for dealer part-exchange vehicles increased by a month to 88.5 months, although mileage fell back by 1,000 miles to 71,500. Average performance against CAP Clean improved marginally to 95.5 per cent.
Values in the low-volume nearly-new sector rose by £1,248 (6.1 per cent), year-on-year. Make and model have a significant effect in this sector.
More facts and figures from the 2014 full-year Pulse Report will appear in the next edition of Car Dealer Magazine.
MORE: Prince Charles catches up with latest news from Sunderland plant
MORE: New Ford Mustang is here! UK order books open for first time
MORE: Caterham Cars launches approved pre-owned scheme