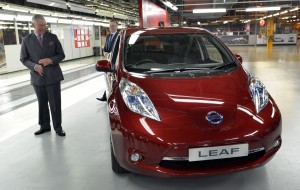 THE Prince of Wales visited Nissan's Sunderland plant yesterday to see production of the 100 per cent electric Nissan Leaf and to learn about the Nissan Skills Foundation, a job-creation programme.
The Prince has a relationship with the plant that dates back almost 30 years.
During a trip to Japan in 1986, he took part in a traditional Japanese Daruma ceremony to mark the start of production at the newly-constructed Sunderland plant and rode in one of Nissan's ground-breaking electric vehicles at the company's Zama plant.

During yesterday's visit, the Prince of Wales was shown how a further 29 years of electric vehicle technology have helped make Nissan's electric Leaf the best-selling electric car in history. He also met apprentices and employees involved in the project.
The Leaf, which went into production at the plant in 2013, was the world's first mass-produced 100 per cent electric vehicle and has now notched up sales of 33,000 vehicles in Europe and more than 158,000 vehicles globally.
Paul Willcox, chairman, Nissan Europe, who hosted the Prince, said: 'We were honoured to receive a visit from the Prince of Wales.
'With a keen, lifelong interest in sustainability, His Royal Highness was interested to see Leaf production as well as hear about Sunderland's achievements as one of the UK's most successful car plants.'

Following the tour of the production line, the Prince of Wales visited Nissan's Global Training Centre, which is part of Gateshead College's Skills Academy for Sustainability, Manufacturing and Innovation.
MORE: New Ford Mustang is here! UK order books open for the first time ever
MORE: New Kia Sorento is on its way to the UK this spring
MORE: Auto Trader hit by 'phishing' scam