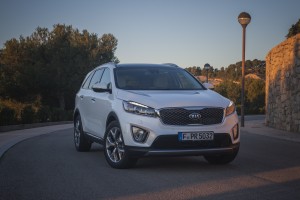 THE arrival of the new Kia Sorento in the UK is getting ever closer.
But while the fast-growing manufacturer is showing off the car to journalists from all corners of Europe this week, the exact details of what we can expect in the UK are producing frustratingly elusive.
It's not that much of a problem, in actual fact. We don't know too much about the pricing – although we've been told there will be change out of £30,000 for an entry-level model – and we are a little bit in the dark about specifications – although heated steering wheels won't be on their way to the UK, we understand.

Mainly the preserve of our Scandinavian friends, you see.
So far, so unspecific. What we CAN relay, however, is that four trim levels will be available for UK buyers from April onwards, called KX1, KX2, KX3 and the range-topping KX4.
UK customers will be offered seven-seat variants only (five-seaters will be available in other markets), powered by a 2.2-litre CRDi 197bhp engine (up from 194bhp) with six-speed transmission, and both manual and automatic alternatives available.
Emission figures will be lower (from 149g/km down from 155g/km) and what is definitely not in doubt is the step change in quality, particularly the interior, and the improved ride, handling and technological capabilities.

Kia is targeting 3,500 Sorento sales in the car's first full year of being available in the UK, with the KX2 manual expected to be the best-seller.
And interestingly, the new Sorento arrives just as its predecessor goes out with a bang. The company told us that the most successful year for outgoing Sorento was its final one – with sales figures for 2014 a full third ahead of those for 2013. Quite an achievement for a car at the end of its lifecycle.
In fact 2014 was a good year for Kia in the UK overall. President and CEO Paul Philpott said: 'We managed to set another record, selling over 77,500 cars, with sales up seven-and-a-half per cent.
'That gave us a market share of 3.3 per cent. We were above Skoda, Seat, Fiat, Honda and others. We've got a plan to get to an annual sales figure of 100,000 units by the end of the decade which would give us a four per cent market share.
'We believe we're well on track with that.'
Check out our recent Paris Motor Show interview with Kia's UK boss Paul Philpott here.
MORE: Auto Trader hit by 'phishing' scam
MORE: Fiat targets young drivers with telematics deal
MORE: BBC doesn't trust us, says Top Gear boss