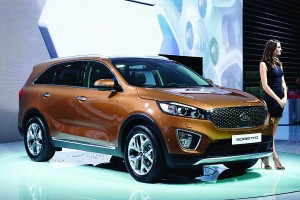 WANT to become a Kia dealer? Join the queue. As the Korean manufacturer has rapidly increased both the number of dealers it has in the UK and the number of cars it sells, a waiting list has developed of people keen to join the franchise.
It's a remarkable transformation in the manufacturer's fortunes and one of which UK president and chief executive Paul Philpott is justifiably proud.
Philpott has become something of a Car Dealer regular this year. He was the keynote speaker at our hugely successful conference in June, and a few weeks later was at Portsmouth's Spinnaker Tower to pick up the gong for Best Manufacturer in the Car Dealer Power awards.

'Yes, that was a very good night,' he smiled when we caught up with him in Paris. 'We work really hard with our dealers to build a really strong partnership. We listen to their views and we're very clear that a profitable network is a happy network.
'We've grown the business from 29,000 units in 2007 to 78,000 units this year – that's tremendous growth. And we have grown the network during that time from 140 dealers to about 180. The long- term plan is to get to 200, or approaching 200.'
Kia was debuting its impressive new motor show stand in Paris. And on that stand, the main draw was the new seven-seat SUV Sorento, making its European debut. It will launch in the UK at the back-end of quarter one next year.
Philpott told us: 'Obviously, it's our top-of-the- range halo product and demonstrates just how far our range is developing, particularly in terms of interior quality. When you put current Sorento, which is a good car that has done very well, alongside the new car, you can see what a leap forward we're making not just in terms of exterior design but in terms of interior quality as well.'

We asked Philpott about the GT4 Stinger concept, unveiled at Detroit in January. He told us: 'For a number of years now we have discussed Kia having a dedicated sports car. We are trying to take our brand down the youthful, sporty, dynamic route. We always said we had to fill the mainstream segments first with highly competitive cars, which we have now done.
'We would like to turn the testing that we've done at various motor shows with concepts, first with GT and then with GT4 Stinger, into reality. There's a real will across our organisation to make it happen but I can't yet define when.
'We obviously launched Cee'd GT as a top-end, sportier version of Cee'd last year. It's been a great success for us. Not only are we selling an eight to 10 per cent mix of Cee'd as GT, but the halo effect it has on Cee'd as a model range and the credibility it gives is very positive.'