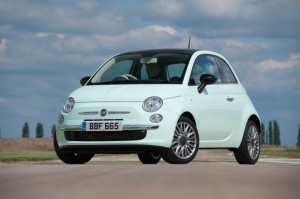 FIAT has added telematics to its 500 model as part of a special financing package which aims to help more 18–25 year olds on the road. 
The telematics device lets young drivers gain valuable experience behind the wheel, with Carrot Insurance's cash rewards programme, as they are incentivised and encouraged to form safer driving habits.
Fiat explained that for 35 per cent of 17-25 year olds the costs of car ownership are so high they choose not to own one at all, while the vast majority of those that do end up spending up to 30 per cent of their income just keeping their car on the road.

The new i-Deal package, from the Italian manufacturer, rolls insurance and servicing costs into the monthly payment for the car. For £239 a month over a three-year period, drivers as young as 18 can own a Fiat 500 1.2 Pop, with Easy Care Servicing Maintenance and fully-comprehensive insurance from Carrot Insurance included in this price.
Karl Howkins, Commercial Director for FIAT Chrysler UK, said: 'Having thoroughly researched the market, we determined that Carrot's approach to insuring young drivers would be best suited for the iconic FIAT 500 and we're delighted they are supporting our plans for i-Deal in tandem with their partner, Zurich Insurance.
'This all-inclusive insurance package deal will make the dream of driving a brand new FIAT 500 a reality for many young drivers who would otherwise be forced to drive an older and potentially less reliable and safe vehicle.'
Ed Rochfort, product director at Carrot Insurance, added: 'We're excited that this fantastic product is coming to market, and that the partnership we've formed with FIAT has come to fruition.

'Forging deeper links with the automotive industry is a key part of our wider business strategy moving forward, as we recognise that the convergence between manufacturers and the provision of insurance will continue to gather pace.'
MORE: 70mph motorway speed limit means 70mph from now on
MORE: BBC doesn't trust us, says Top Gear boss
MORE: Our dealers have a big say… we're in constant touch, say Porsche