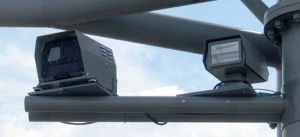 YOU know you've always felt pretty safe on the motorway as long as you keep your speed under 80mph? Think again…
The new 'smart' motorways springing up in England have a new kind of stealth speed cameras – they're tucked away on the gantry, painted grey, and can scan up to four lanes at the same time… and will catch motorists only just exceeding 70mph.
In the two months they have been operating on the M25 in Kent, they have caught almost 700 motorists.

They are set to be introduced on a northern section of the M25 and also parts of the M1, M3, M60 and M6.
Motoring groups claim the devices will see thousands of drivers facing at least £100 in fines and points on their licence for straying marginally over the 70mph limit.
DOWNLOAD: Car Dealer is FREE to subscribe to on iPad, get it from the App Store here
The Association of Chief Police Officers recommends drivers are not charged unless they exceed 79mph in a 70mph limit zone.

Hugh Bladon, one of the founder members of the Alliance of British Drivers, said they did not believe targeting drivers on the motorways was the best way to improve safety. 'The 70mph limit was brought in at a time when the stopping power of cars was a bit like stopping an oil tanker, and the maximum speed of most cars was 74mph. We've moved on now, some 50 years later we have cars that stop much more quickly.
'The amount of traffic that exceeds the 70mph limit is enormous. Most people are driving at 80mph on motorways, and these are our safest roads in the country.'
Mr Bladon said he did not think using speed cameras on the M25 was appropriate because there are many times, particularly late at night or when there is little traffic, when it is safe to driver faster than 70mph. He also said these should be made more visible, rather than disguised to try to catch drivers out.
In 2012-13 the Government collected £284m in speeding fines.
The Highways Agency said signs warning about speed cameras should be displayed on every gantry of the motorway where they are used. 'There are clear signs where cameras are in place and the new cameras are more visible than the previous versions,' said a spokesman.
Subscriptions to Car Dealer can be made for £39.99 via Car Dealer Club. Or get it for FREE on iPad, in the App Store here
MORE: Sign up for the UK's largest Car Dealer Conference for free here

MORE: Beware more stealth speed cameras have gone live on the M25
MORE: Dealers 'have a big say about Porsche models'