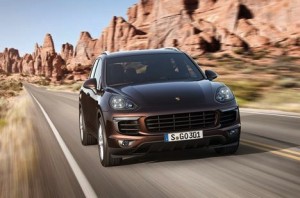 FEEDBACK from dealers plays an important part in the development of cars in the Porsche range.
And their input helped shape the development of the new Cayenne, the company's hugely-successful sporty SUV, unveiled to UK journalists last week.
Speaking exclusively to Car Dealer, James Eastwood, the company's manager – product operations, told us: 'We take any feedback from our dealers very seriously.

'The great thing is that myself and the product team have a really good relationship with the dealers. We are in daily contact with a lot of them and they obviously give us feedback on what sells, and what customers are asking for.
'They are the sharp end so it's great to get their feedback. We will then translate that feedback and give it back to the main factory and our development guys.'
Eastwood was chatting to us at the Porsche Driving Experience, a complex within the grounds of the world-famous Silverstone circuit in Northamptonshire.
With a fast track, braking/acceleration straights and a kick-plate designed to demonstrate how cars handle in treacherous conditions, it gives all Porsche customers the chance to really put their new vehicle through its paces, all the while under the watchful eye of the centre's expert drivers.

Eastwood told us: 'Recently, all the sales people from the whole of the network, and all of the service teams, came here for a training event.
'Every new model we produce, we get them all here to drive the car and typically we involve the competition in that. It's a great opportunity for us to help them understand what makes us a little bit unique in the market place and Cayenne never disappoints. It always surprises and the latest generation has certainly done that.
'You've got all the space of an SUV. It's comfy, you can put all your luggage in it, but then if you want to push on, the handling, for a big car, is really phenomenal.'
Cayenne has exceeded all sales expectations since its launch in 2002. More than 276,000 first-generation vehicles rolled off the production line, and more than 300,000 examples of the second-generation car have already been sold.
The latest version has been designed to offer increased efficiency, even more precise handling, a sharper design and more standard equipment. Five models are available from the start including Cayenne Turbo and, as a world premiere, Cayenne S E-Hybrid.
Together with the Panamera S E-Hybrid and the 918 Spyder, Porsche is the only manufacturer to offer three plug-in hybrid models.
MORE: 2014 was Wessex Garages' best year yet
MORE: Mazda celebrating good year for sales
MORE: FLA reports seven per cent growth in new car finance