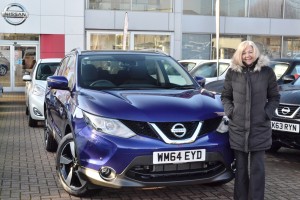 AN award-winning car dealership group has seen its best year yet for new car sales in 2014 – in line with recent national figures revealed by the Society of Motor Manufacturers and Traders.
Wessex Garages, which has dealerships across south Wales and the south-west, saw an increase of 10 per cent on new car sales during 2014, which was on top of an 11 per cent increase the previous year.
Keith Brock, managing director of Wessex Garages, said: 'We're thrilled to announce 2014 as our best year yet for sales of new cars.

'The SMMT recently revealed that Britain's motor traders saw a 9.4 per cent increase in sales of new cars in 2014 compared to 2013. Our figure is above the national trend so we couldn't be happier. We had a fantastic year and we hope 2015 will be even better.
'One of our top-selling cars was the Nissan Qashqai, with 49,909 sold in the UK. The Wessex Group supplies three cars within the top 10 sales for 2014, the Nissan Qashqai, which came in at number six, the Fiat 500 at number nine and the Nissan Juke, which came in at number 10.'
The dealership has also experienced a growth in popularity of family cars.
Mr Brock added: 'Last year also saw a remarkable surge in demand for ultra-low-emission vehicles and registrations of plug-in cars increased four-fold from 3,586 in 2013 to 14,498 in 2014.

'The Nissan Leaf has become increasingly popular and we expect more to be sold in 2015.'
Wessex Garages is a privately-owned company that has outlets in Bristol, Cardiff, Gloucester and Newport.
Our picture shows Sheila Lewis, a member of Wessex Garages' staff, with a Nissan Qashqai.
MORE: Mazda celebrating a good year for sales
MORE: Seven per cent growth in new car finance