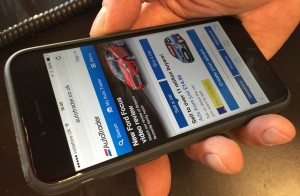 AUTO TRADER'S account holders have been hit by a phishing scam which asks users to log in to their account through a fake website.
Phishing emails encourage you to enter your personal details, giving the fraudster access to your accounts. They are made to look like the legitimate website and are often difficult to spot. Auto Trader is advising anyone who did enter their details into this form to change their password immediately, as well as any other accounts that they might use the same password for.
Those receiving the email are led to believe someone has requested to buy a car from them and asked to click a link to see the offer. The company has stressed that the website www.team-autotrader.com 'is not a genuine offer and is in no way affiliated with Auto Trader'.

Auto Trader sent out a message to its users yesterday, which read: 'We have been made aware of an email being sent to our customers containing a fraudulent link that leads to a fake version of the Auto Trader log-in page.
'The content of the email is as follows – Congratulations, You have a request from Thomas Livingston to buy your AutoTrader Ad. Click Here to view your request.
'Please be aware that we would not ask you to, or advise you to, log into your account via a link and no interested buyer has any legitimate reason to send you a link of any kind or to ask you to contact them at a direct email address.'
The car sales website has advised that if you have sent a deposit to the fake website, you should contact Action Fraud immediately on 0300 123 2040 www.actionfraud.police.uk. For any further information please visit http://www.autotrader.co.uk/.

Were you affected by this phishing scam? Let us know in the Car Dealer Forum.
MORE: Fiat targets young drivers with telematics deal
MORE: Mazda celebrating good year for sales
MORE: FLA reports seven per cent growth in new car finance