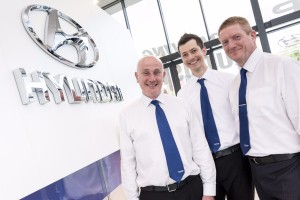 VANTAGE Motor Group, one of the UK's fastest growing motor retail companies, has opened its fourth Hyundai dealership in the north-west, making it the biggest Hyundai dealer in the region.
The newly-built, state-of-the-art facility, situated at Kings Reach Business Park in Stockport, represents a £2.5m investment and will create up to 25 jobs with roles ranging from sales and servicing to valeting and management.
It is one of the first Hyundai dealerships in the UK to showcase the brand's new corporate identity, which features an open, airy showroom with high ceilings and floor-to-ceiling glazing topped by a bronze fascia including a silver Hyundai logo.

Trading as Vantage Hyundai Stockport, the new centre will be expected to sell 900 new and used cars each year. The centre features a 10-car showroom, eight-bay workshop and space for 60 used cars.
Mark Robinson, Vantage chief executive, said: 'This expansion is a strategically important move for us that will see our presence in the north-west significantly bolstered. We opened our first Hyundai dealership in Salford in 2011 and following the success of that site have gone on to secure further sites in the area, opening centres in Oldham and Preston, and now Stockport, our fourth in the region.
'I am extremely pleased that we have been able to bring new jobs and investment to the area.'
Andy McGevor, centre principal, said: 'We look forward to welcoming people to the dealership, selling great cars and delivering Vantage's outstanding customer service ethos to people in the area.'

Over the past year Vantage Motor Group's turnover has grown from £65m to more than £200m and the group has increased its number of sites from seven in Yorkshire and Lancashire to 18 across the north of England and the West Midlands. The group employs 400 people.
Our picture shows, from the left, Vantage Stockport after sales advisors Mark Goddard and Dan Pegg and centre principal Andy McGevor.