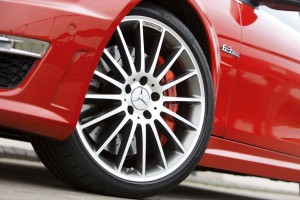 A DEALERSHIP in Tonbridge, Kent, woke up last week to find the wheels of over ten of its vehicles removed – as thieves attempted to make off with them during the night.
The 13 brand new cars, all Mercedes-Benz, were being stored in a nearby locked location on behalf of a local dealership, Kent News reports. Thieves reportedly broke in by cutting through fencing at the facility – reversing a Transit van onto the site and using power tools to remove the Mercedes' wheels.
Luckily, the pair were caught before they could make off with the haul – estimated to be worth as much as £18,000 in total – and are now facing sentencing at Maidstone crown court.

However, there's no mention of whether the cars or their alloys were damaged in the attempted theft – with reports suggesting that the vehicles were simply 'left in the yard, with wheel nuts from the missing wheels scattered on the ground.'
'These thieves were caught in the act by an astute member of the public and we thank him for his information,' commented DC Mark Ansdell.
'The officers who were first on the scene then did a great job in apprehending one of the offenders as they made their escape.
'The team followed this up by gathering key evidence, tracking down a second offender and ultimately bringing them to justice.'

The attempted thefts are just one in a series of parts thefts reported from dealerships over the last few months. On Wednesday we reported on a Vauxhall dealer in Buckinghamshire that had also been targeted: thieves making off with bumpers, headlights and alloy wheels stripped from brand new Corsas.
Have you filled in our Car Dealer Power survey yet? It's a great opportunity to have your say, and you could win one of seven great prizes! Click here to enter.