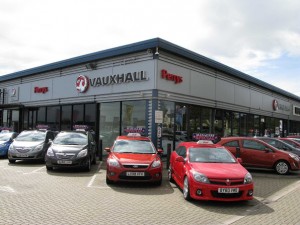 A VAUXHALL dealer in Buckinghamshire has been targeted by thieves, reports from the Bucks Herald suggest.
Perrys Aylesbury was the scene of the crime, according to the paper, with around 16 Vauxhalls at a storage facility targeted for their parts by thieves.
The thefts took place between 6AM and 9AM on March 30, with Police appealing for any witnesses to call them on 101.

Corsas were said to be the main target of the attack, with 12 of the models stripped of their 'bumpers, headlights and alloy wheels' while they sat in the facility.
A Corsa VXR, meanwhile, was 'entirely stripped', with around 16 cars targeted in total.
Car parts theft is becoming increasingly common, many sources are starting to suggest – with parts sales becoming as lucrative for thieves, with an added lack of traceability.
Catalytic converters are also starting to attract the wrong sort of attention – sought not only for the value of the parts, but the precious metals that they contain.

Dirk Pym of Milton Keynes CID confirmed that Thames Valley Police was 'actively investigating' the crimes, after a spate of incidents earlier this year.
'Following these recent thefts in the Milton Keynes area, we are urging owners of vehicles with catalytic converters to put them in a garage if they can,' he told MK News.
'Industrial estates, car parks, and new car forecourts are also some of the places that are being targeted, where the more appealing vehicles are parked overnight.
'Vans, 4x4s and trucks are easier to target due to their height off the ground and easy access to the underneath of the vehicle.'
Photo Credit: Google
Have you filled in our Car Dealer Power survey yet? It's a great opportunity to have your say, and you could win one of seven great prizes! Click here to enter.