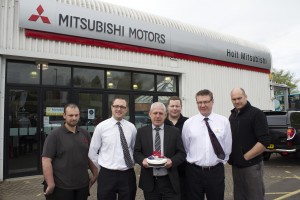 THE aftersales team at a dealership in Derby have notched up 80 years of service between them.
Leading the way at Holt Mitsubishi in London Road is assistant aftersales manager Andy Reed who has been with the manufacturer for 23 years, closely followed by aftersales manager Ted Armal who has been with the company for 20 years.
Master technicians Leigh Allsop and Chris Boot have 18 and eight years between them respectively; service advisor Paul Preece has 10 years with Mitsubishi; while apprentice Lewis Clay has been with Holt Mitsubishi for a year now.

Ted said: 'It's great that we have reached the 80-year mark with Mitsubishi between us. The most important thing is it gives continuity to our customers because they are seeing the same faces every time they come in. We get a lot of repeat business because of the trust that has built up and the customers feel comfortable.'
Andy, who joined Mitsubishi straight from school as a 17-year-old in 1991, said: 'I've seen a lot of changes in the way we work since I first joined Mitsubishi. I started as a parts advisor and I've worked my way up over the years. We have customers who have been with us for 20 years or more and it's nice that they keep coming back.'
A highlight for keen football fan Andy was serving former Derby County player Paul Simpson when he bought a Mitsubishi in the 1990s while still playing at the club.
'He was very friendly and it was great to meet him,' Andy said.

Brian Holt, dealer principal at Holt Mitsubishi, added: 'We're proud to have an aftersales team with so many years' experience with Mitsubishi, and we know our customers value seeing a familiar face when they come to the dealership.'
Our picture shows the aftersales team at Holt Mitsubishi. From left: Chris Boot, Paul Preece, Ted Armal, Lewis Clay, Andy Reed and Leigh Allsop.