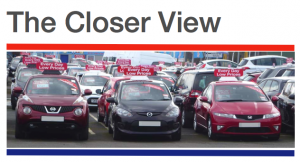 THE importance of buying used car stock that suits local buyers is becoming more important than ever before, according to BCA.
Professor Peter Cooke was commissioned by the auction house to investigate the complex used car market and found dealers that buy stock that matches their local customers' needs will be far more successful.
For example, in the north buyers place make and model above price when choosing a used car, while those in the south were more focused on the cost of changing their vehicle.

Prof Cooke said: 'This report shows that used car buyers often have quite different expectations across the regions, which creates marketing and promotional implications for used car retailers on what they offer in their local markets and at what price.'
The 40-page report, The Closer View, examines regional variations, new car sales and used car supply, regional influences on the car buying decision and future prospects and needs of used car buyers in detail.
Available as a free download to dealers, the report suggests that an awareness of local car buyers' expectations and preferences can help them develop their business.
For buyers, it is clear from the report that price is still the most important factor with seven of the 11 UK regions placing it as their number one priority.

In most regions, low mileage had the lowest importance but was still a priority. While in the north 55 per cent put the make and model of the vehicle ahead of price or mileage.
When it came to choosing a dealer, 'right car at the right price' was the most important factor for buyers across much of the UK. In the West Midlands the reliability of the dealer and how trustworthy they are was also important.
Cheap finance is a key decider for customers with some 50 per cent saying they would buy a new car if the financing options were 'cheap enough'.
BCA managing director Spencer Lock said: 'This report provides valuable insight for any business operating in the retail motor sector.'