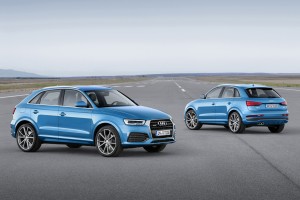 SO, I've been asked, what's it like being a motoring journalist? What do you actually do?
Well, I'm a newbie at all of this. But first impressions are that it's a pretty good way to earn a living.
There's the Car Dealer magazine to sort out, of course, and all the stuff that happens in the office.

But I've driven a different car almost every day. Volvos, Mazdas, Audis, an MG electric concept car, Mercedes, Fords… that's just in the first week.
And then I had to pop to Munich with Audi.
First it was off to Stansted for dinner, before an early-morning flight in a private charter jet. Okay, the flight was delayed a few minutes. But last time I flew, we were on a family holiday and we spent four hours sat on the floor in an airport lounge as all the seats were taken, freezing cold, counting the minutes.
This time, I was in a pretty comfy private lounge, being served bacon butties and tea in a silver teapot. Not a bad way to while away 20 minutes…

The plane was something else. It was used, we were told, by the Queen a little while ago. I think the crew thought she was still on board.
The service was superb. Nothing was too much trouble. There was more to eat and drink. And those seats! Massive leather jobs, with loads (and I mean loads) of leg room.
At Munich, we jumped on our coach to the posh new Audi conference centre, on the edge of the airport complex. After a bite to eat and a coffee, there was a news conference about the new Q3 range.
Then it was outside to drive the cars. The whole range was there, from the 1.4-litre family SUV to the super-fast RS. It was go for a drive (using the sat-nav which had the route pre-programmed) on a nice loop, then return, then jump into another model and do it all again.
There was coffee on tap. And more food. A cooked lunch. Or sandwiches. And after 3pm, cakes. And more cakes, And then even more.
And part of the route took us on a section of the autobahn with no speed restrictions.
It's like offering a little kid his choice of toys for Christmas. Can anyone really have this much fun fully clothed??
The RS was superb – I've never put my foot down and driven a car that fast. How fast? Not telling. But it was great fun.
Those nice people at Audi couldn't do enough for us.
Driving came to an end as the sun fell, and it was back on the coach to the airport lounge, and on to the plane. The Queen wasn't using it that afternoon, so it was the same one.
More drinks, more food… then we were back.
To hop into a rather nice S-Max which Ford has given me this week to try out, and home.
So, for the next person who asks, being a motoring journalist is hell. All work and no play…
(If the boss reads this, I obviously worked on my laptop throughout the flight, and between drives, and didn't waste a second of my time.
If the gym instructor reads this, I of course drank only black coffee, had a salad sandwich for lunch, and turned down all the cakes. Even the lovely, light sponge one with little nuts on top…)