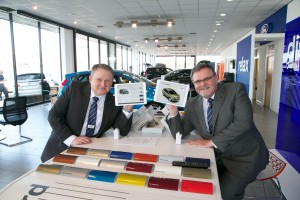 BRISTOL Street Motors Ford Hartlepool has benefited from a significant refurbishment as the dealership celebrates two successful years in the town.
The business added the dealership to its portfolio after acquiring it in July 2012.
The showroom has undergone a transformation to reflect the new Ford corporate standards, including iPads to assist customers with vehicle specification, comfortable seating areas plus new brochures and colour swatches.

The dealership, based in Brenda Road, now employs 29 people.
General manager Les Moyes said: 'Bristol Street Motors is committed to Hartlepool and the upgrade of the dealership demonstrates our determination to be a strong force within the town.
'The site has a fresh, modern look and customers have been extremely complimentary about the new facilities.
'It has been a very successful first two years in Hartlepool. The dealership is thriving with sales growing, and the ethos of excellent customer service has built Bristol Street Motors a strong and positive reputation.'

The news comes after Bristol Street Motors' Ford dealership in Durham marked two successful years in the city with a £2m investment in smart new premises.