CAR Dealer Magazine has signed up a host of motor industry big names to appear on the CDX16 main stage on May 24.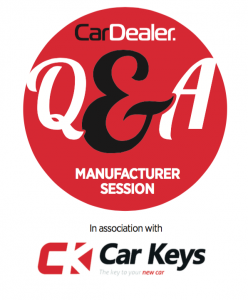 The Car Dealer Q&A panels, sponsored by CarKeys, will see panelists from car manufacturers, franchised and independent dealers take to the Car Dealer Live stage in the middle of Hall 3 to discuss the most pressing topics.
Chaired by Car Dealer's James Baggott, the panellists will be asked to share their opinions in front of our live audience with a chance for questions taken from delegates.

The Q&A panels will form a part of a programme of events on the Car Dealer Live stage at the Silverstone-based expo on May 24. Keynote speakers from Twitter, Facebook, Google and Haymarket Automotive will all also appear.
Dealers can sign up for free tickets to the event now by following this link.
Baggott said: 'Once again we have managed to attract some of the biggest names in the motor industry to take to the stage and answer our questions.
'Last year's panels were very popular and the difference in opinion from those that took part was stark – and extremely entertaining as a result. We've invited some opinionated motor industry names which will make these sessions must-watch events.'

The Car Dealer Q&A Panels, sponsored by CarKeys, will feature the following:
Car Manufacturers
Andy Barratt, chairman and managing director, Ford of Britain
Nick Connor, managing director, Volvo Car UK
Lance Bradley, managing director, Mitsubishi Motors in the UK
Paul Williams, CEO, SsangYong UK
Franchised Car Dealers
John Tordoff, chief executive, JCT600
Ken Savage, chairman, Perrys
Nigel McMinn, managing director, Lookers
John O'Hanlon, chief executive, Ridgeway
Independent Car Dealers
Jonathan Dunkley, CEO, Carshop
Andy Coulthurst, CEO, Trade Centre Wales
Jamie Caple, Creative Director, Caralot
The Car Dealer Live stage programme starts at 9.30am on Tuesday, May 24 at our Silverstone event. To book your free tickets, click here.
MORE: Google and Facebook join line-up of speakers at CDX
MORE: Want to have a stand at CDX? Act now!
MORE: We'll be revealing the 140 most influential dealers on Twitter at CDX
On SuperUnleaded.com: This Cute Moosey Moment Will Melt Your Heart