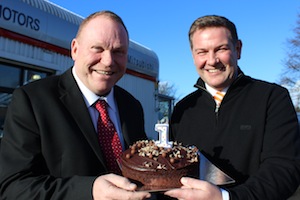 A DERBY Mitsubishi dealership is celebrating a successful first year under new owner Brian Holt after selling almost 300 vehicles.
The Mitsubishi dealership was given a new lease of life after Holt, who had worked at the business for 12 years, decided to buy the business a little over a year ago.
Now, Holt Mitsubishi has become an undeniable force in the Alvaston area of Derby, raising more than £1,000 for charity by taking part in Movember last year and, most recently, giving one lucky winner a Mirage to drive for a year.

With such a successful year behind them, the Holt team are looking forward to making the rest of 2014 just as memorable.
Brian Holt, dealer principal, said: 'I'm so glad I made the decision to buy the dealership. I'm very passionate about the business and we have a great team here.
'To be celebrating our first birthday is fantastic, and I hope the team and I will continue to build on the success we've had already.'