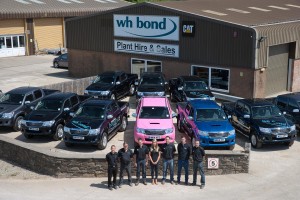 A TOYOTA dealership in Truro, Cornwall, has provided a local construction and agricultural services firm with its 100th Hilux.
Family firm WH Bond & Sons has been using Toyota Hiluxes for 21 years. And there will be no stopping them now they have reached three figures: the company plans to continue ordering three more of the cars a month to keep its fleet up to date.
Andy Pearce, WH Bond's business development manager, said: 'Since our first Hilux, there has been no reason not to continue with this model. It's faultlessly reliable, has excellent re-sale values and is well specified. Toyota continues to do exactly what we require.'

Hilux fulfils two roles at WH Bond & Sons. Many are used as company vehicles for members of staff, while others form part of a £10m hire fleet alongside excavators, telehandlers, dumpers and rollers.
The company was established in 1957, as a family farming business and has since developed into a one-stop shop for construction and agricultural services, with more than 100 employees.
The milestone 100th Hilux was handed over to the firm at its headquarters near Saltash by Ian Pollard of Parklands Toyota Truro.