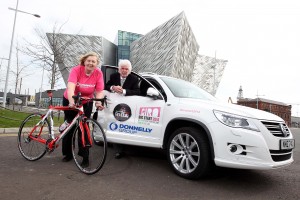 THE DONNELLY GROUP – Northern Ireland's biggest independent new and used vehicle retailer – has been chosen as the official vehicle provider for the 2014 Giro d'Italia Big Start.
The prestigious Italian bike race begins in Belfast on 9th May, with the Big Start comprising two stages in Northern Ireland before heading into the Republic of Ireland and finishing on 11th. The group will supply Giro officials, including race directors, race inspectors, plus medical and technical support, with cars from the Alfa Romeo, Fiat, Vauxhall and Volkswagen ranges over the three days.
Donnelly Group marketing director Roisin Donnelly said: 'I was lucky enough to attend the 2013 Giro d'Italia along with some members of my team and the atmosphere was simply electrifying. It was an absolute thrill to watch and I thoroughly recommend that everyone gets involved by driving to one of the viewpoints along the route and showing their support.

'It is an honour to be selected as the official vehicle provider for what I am sure will be one of the biggest and most successful international sporting events to ever come to Northern Ireland.
'At the Donnelly Group, customer service is central to everything we do, and we are delighted with the opportunity to provide our quality, comfortable and reliable vehicles to the Giro d'Italia Big Start organising team.'
The race – one of the three Grand Tours in the cycling calendar, along with the Tour de France and Vuelta a España – ends in Trieste on 1st June after 21 stages.