THE December edition of Car Dealer Magazine is now available online – for just £1.99!
Inside it, we celebrate the 10th anniversary of the madcap fundraising rally that is Bangers4Ben, with a seven-page spread recapturing all the fun that the zany participants had as they travelled hundreds of miles across Europe in aid of the automotive charity. In addition, we feature the auction that swelled Ben's funds even further and honour the winners of our various prize categories.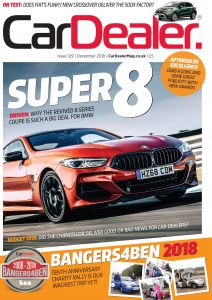 Also in issue 129, our regular columnists are on hand to give their insightful, refreshing and entertaining take on the industry, with Big Mike recalling an unfortunate incident with a hire car that demonstrated why – just occasionally – new tech can be too much of a good thing, while Rebecca Chaplin sees firsthand how digital and physical enterprises can work hand in hand, and boss man James Baggott has a whale of a time as he makes a temporary – and highly successful – return to the retail industry after some three decades.

Meanwhile, on our forecourt and fresh off the starting block, we put the new BMW 8 Series, Volvo S60 and Ford Mustang Bullitt to the test.
We also shine the spotlight on major aftersales opportunities, looking at top providers of key lockers, vehicle diagnostics, quality control systems, warranties, lead management and mobile technology that can increase revenue.
The new Vauxhall Combo Nissan is tried out as part of our LCV section, while there's news from the workshop sector, too, and we welcome the Mazda6 Tourer Sport and new Peugeot 3008 to the long-term fleet, which join the Vauxhall Grandland's progress report.
Needless to say, we also bring you the SMMT's latest car and LCV registration figures, as well as feedback from our readers, legal advice from Lawgistics and our informative finance and auction sections.

Car Dealer Magazine is the essential industry publication. Click here to get hold of your online copy for just £1.99.
MORE: Want to be a car dealer? Our essential guide is just £9.99