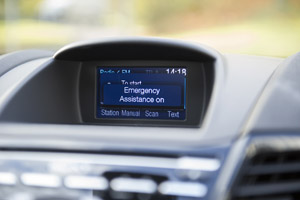 'EVERY' new car on sale by 2014 will be in some way connected to the internet, analysts have said.
An article by the BBC has suggested that, with smartphones becoming ever popular worldwide, car makers have taken it upon themselves to embed as much as the technology within new models as possible – and the suggestion is that this trend will only grow in the future.
Technology manufacturer Intel believes that 'connected' cars are the third fastest growing technology sector for example, second only to phones and tablets. In fact, the firm is so confident in the rise that they're investing $100 million (around £64 million) in companies that can 'quicken the adoption of connected cars'.

Embedding the technology could well be seen as a gimmick, but the systems are increasingly designed to make life easier for drivers. With Renault's recently announced R-Link system for example, drivers can do anything from looking up local restaurants to having weather reports read out to them – and can even pay for services such as live traffic reports for the sat nav system.
The movement isn't simply for the benefit of customers, though – the technology is big business, and manufacturers know it.
'Ford has categorically stated that [smartphone technology] is selling more cars for them,' Jack Bergquist of information company IHS told the BBC. 'Over 50% of consumers would be swayed by the presence of an internet-capable device.'
It's no surprise then that so many manufacturers are looking to invest in the technology. In addition to Renault and Ford, BMW have constructed Android apps that connect directly with the car, and Audi have integrated live Google Earth imagery into some of their sat navs.

It isn't cheap though, and it's likely that only the biggest companies will be able to keep up. The BBC suggest that, in addition to Intel, 'billions' of pounds have been invested in the tech.
'By the end of 2014, for some of the bigger brands, every vehicle they sell will offer some sort of connectivity,' added Bergquist.
'If you look at a cost to design a completely new car model, some companies are spending around a third of the budget just on the in-vehicle infotainment (IVI) and the in-car technology around the system.'