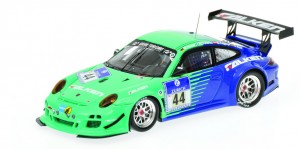 FANCY winning a scale model Porsche, signed by racing driver Peter Dumbreck?
Then simply fill out this year's Car Dealer Power survey! It doesn't take longer than a few minutes, and you'll be in for a chance to win one of SEVEN great prizes!
One such prize is this rather tasty Porsche 911 GT3 R scale model – 1:43 of the size of the real car, it's a a great-looking and extremely well-made bit of kit.

It's signed by none other than racing driver Peter Dumbreck, too – a Porsche works driver who has not only piloted this very car around the fearsome Nurburgring many a-time, but has competed in countless DTM, Le Mans and Formula 3 races worldwide.
Fancy a chance to win the tickets? Well…
To enter, either:
– CLICK HERE to fill out the survey online

OR
– Post us the pull-out version from Issue 60 of the magazine