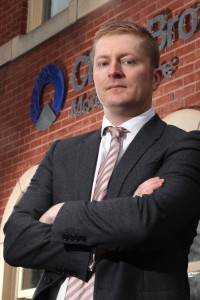 CLOSE Brothers Motor Finance has announced the appointment of Liam Quegan (pictured) as its new chief operating officer.
He will manage the company's branch network, develop the firm's IT infrastructure and oversee core project management teams.
James Broadhead, CEO of Close Brothers Motor Finance, which is part of Close Brothers Group plc, said: 'We are delighted to have Liam on board. This is a strategic appointment that will help us to further improve our business operations and one that ultimately underpins our ambition for growth.

'Liam has hugely-relevant experience and a proven track record of leading large teams, with a deep understanding of the financial services industry and customer service which will bring a new outlook to our business.
'With his fresh approach, I have no doubt he will be a valuable asset to our team.'
Quegan brings to the role more than 15 years of experience in the finance industry, having previously worked at Capital One.
 A candidate on its graduate scheme in 2000, he quickly rose through the ranks to become director of customer service and, most recently, director of collections and recoveries.

He said: 'I'm really pleased to be joining Close Brothers Motor Finance. It's a company with great ambition and I believe it will offer me a new challenge, one that will allow me to further develop my skills and advance my career within a growing business.
'In my new role I will ensure the company continues to have a strong focus on our customers. I believe we need to be driven in terms of how we deliver service to our dealers and continually strive to find solutions that will make our dealers more successful and our customers more satisfied.
'I understand regulation and compliance issues are one of the biggest challenges facing the motor industry at present. As such, my focus will be to ensure we are well placed to help guide our dealer partners through the changes and add value to their businesses.'
Close Brothers Motor Finance employs more than 400 people across 15 sites in the UK and Ireland. It provides finance for new and used cars, motorbikes and light commercial vehicles in partnership with more than 8,000 dealerships across the UK.
MORE: Auto Trader valued at £2.35 billion
MORE: Auto Trader hits back at Times report
MORE: Chrysler to be withdrawn from sale in the UK
On superunleaded.com – Proof That Supercars And Idiots Don't Mix