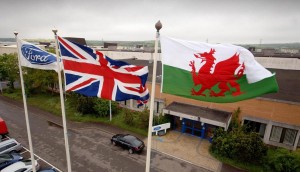 FORD has announce a multi-million pound investment in its Bridgend plant in South Wales – gearing it up for production of a new range of engines.
The new engine – a 1.5-litre EcoBoost – is likely to go into a whole host of Ford models, and is designed with countries whose tax laws benefit engines smaller than 1.6-litres in mind.
Bridgend currently produces 2,668 engines every day, exporting them to Ford's car plants around the world – including its Spanish plant in Valencia, and even those used to produce cars for the American market.

This, says Ford, helps Bridgend deliver an annual export value of £1.5 billion when combined with the firm's other UK operations. At present, the site employs around 2,300 – the highest number in its 33 year history.
Welsh minister for economy Edwina Hart expressed that she was pleased with the news – with the the Welsh Government putting up half of the £24 million investment figure.
'The Welsh Government has worked closely with Ford to secure this investment and is delighted to confirm a support package of £12 million towards this exciting programme. This will help safeguard and create high quality production and engineering jobs in Wales,' she said.
Mark Ovenden, Ford of Britain managing director said: 'The Welsh Government has greatly assisted in maximising the full potential of Ford's own investment in Bridgend and we are pleased to meet today with the Welsh First Minister and the Minister for Economy to recognise this successful partnership.'

Have you filled in our Car Dealer Power survey yet? It's a great opportunity to have your say, and you could win one of seven great prizes! Click here to enter.