FORD is winning the battle for scrappage scheme sales – clocking up a 57 per cent share of all trade-ins since its initiative was introduced in September.
An investigation by Car Dealer Magazine has revealed the UK's biggest selling car manufacturer has so far scrapped more than 8,088 cars. In stark contrast, the worst scrappage scheme performer was Lexus, with just 16 cars sent to the crusher.
There are currently 26 car manufacturers with scrappage schemes in place which aim to take older, more polluting cars off the road.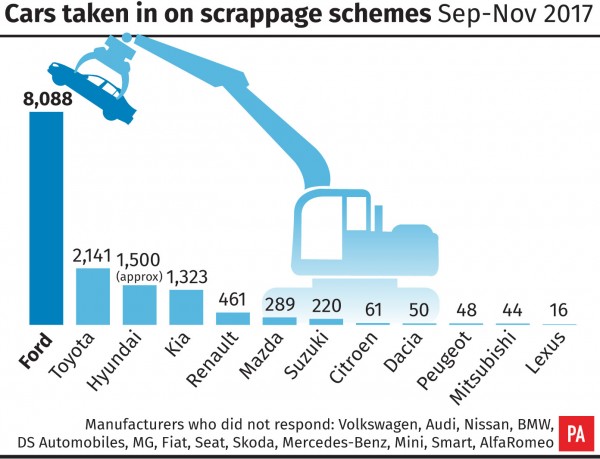 The schemes offer varying discounts – from £1,000 to £7,000 – as guaranteed trade-in prices for qualifying vehicles, usually older diesel cars. Customers are usually encouraged to buy greener alternatives.
Car Dealer Magazine received data from 12 car firms, but 14 refused to disclose details. The figures show that 14,241 cars have been scrapped collectively by the manufacturers since September, when the majority of the initiatives were introduced.
Jonathan Bartley, co-leader of the Green Party, said: 'I welcome the news that these scrappage schemes have had an impact.
'Instead of the scatter gun schemes we are seeing at the moment, there must be a coherent plan from the Government to clean up our toxic air including a national scrappage scheme to help people get rid of their dirty diesel vehicles, as well as investment in public transport, walking and cycling.

'We shouldn't have to put our health in the hands of car makers or rely on their altruism to have a right to clean air. Any scrappage is welcome, but these schemes don't usually go far enough for long enough to make a real difference to much more than the company's own image.'
Despite the schemes' apparent success, industry experts say they are not doing enough to shore up nose-diving car sales.
Car Dealer Magazine production editor Dave Brown said: 'These scrappage schemes were introduced to help boost falling car sales for the tough last quarter of the year. So far in 2017, the car market is down 4.6 per cent, and it is predicted sales will fall further, while next year isn't looking much better.
'While scrappage schemes have definitely played a part in attracting buyers into showrooms who might not otherwise have been ready to buy a new car, they were never going to be able to plug the gap in the decreasing number of sales.'
Tamzen Isacsson, spokeswoman for industry body the Society of Motor Manufacturers and Traders (SMMT), said the majority of schemes encouraged buyers to purchase the latest, least-polluting models.
However, she added that they had still not done enough to reverse the declining new car market.
She said: 'The positive reaction to these schemes has not been enough to offset other negative market trends, including declining consumer and business confidence linked to political and economic uncertainty, as well as confusion around government policy on diesel.'
Daksh Gupta, chief executive officer of the Marshall Motor Group dealer network, which is partnered with various car manufacturers including Ford, said more needed to be done to encourage drivers out of more-polluting vehicles.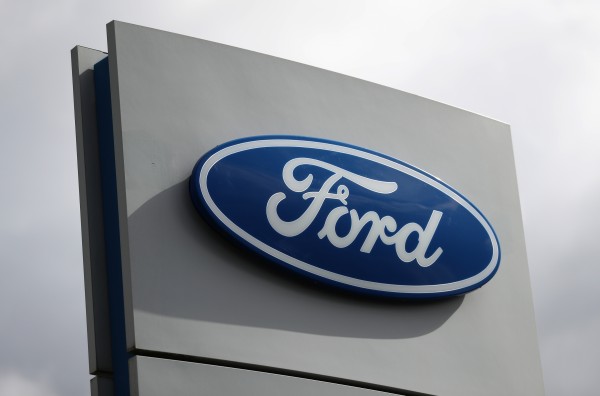 He said: 'The government incentivised motorists to buy diesels, but now the fuel is being demonised, which isn't particularly fair on those who've gone out and bought one because of earlier advice.
'Ford has shown that by being proactive with good marketing and with good advice, customers will come. What consumers really need is more education and incentives.'
Lisa Brankin, Ford of Britain marketing director, said: 'Our scheme is applicable to one of the broadest ranges of vehicles, including commercial vehicles. It is simple, applies to both petrol and diesel vehicles, and it's also a genuine scrappage scheme which aims to help improve air quality and, through bold communications, our dealer network and customers are fully engaged.'
A Toyota spokesman said that customers who received a scrappage discount 'bought more hybrids than conventionally powered cars' across its range.
VW Group manufacturers – including Audi, Seat and Skoda – refused to reveal how many cars they had taken in, as did Nissan, Fiat, Mercedes-Benz and Alfa Romeo.
BMW and Mini said its low emissions allowance was not a scrappage scheme and each dealer would decide the best way to dispose of a vehicle. Meanwhile, Vauxhall refused to reveal how many cars it had scrapped since September, instead revealing that it had scrapped 20,200 vehicles since its scrappage scheme was introduced at the end of 2015.
Additional reporting by Ted Welford