THIS week marked the official launch of Audi's innovative new showroom in Poole, Dorset – one of the largest in the world.
Opening the doors to the press on 6 July, the new £14.5m centre, based on Old Wareham Road, represents the successes of Poole Audi over the past 16 years, delivering cars to thousands of loyal customers.
The relocation and development of Audi Poole, which coincides with the publishing of the business's 2016 turnover projections of £79m and took just 14 months to complete, has facilitated the creation of more than 20 new jobs in sales, service, parts, hosting and finance.

A total of 110 staff members will work at the new 65,000sq ft dealership when it opens its doors to customers in August. It will display 24 new models in its 8,300sq ft showroom, will house two HD display configuration rooms, and has 80 spaces for used cars and 325 service vehicles.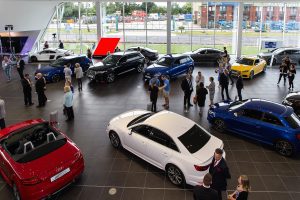 The new site also has room more than half an acre of rooftop parking for more than 100 cars, a 24-bay workshop alongside two MOT zones plus full valet and smart repair facilities.
Upon arrival at the dealership, service, maintenance and MOT customers will now be able to enter the showroom via one of three drive-in bays, under cover and climate-controlled – a first for an Audi dealership in the region. Meanwhile, vehicle handovers will be carried out in one of three high-quality handover bays.
Furthermore, customers waiting for work to be done will be able to choose from a first class lounge, a gym and even a beauty salon and spa, which will offer a range of complimentary or comprehensive choice of treatments.

David Kelly, MD of Poole Audi Centre, told Car Dealer: 'The expansion of Poole Audi over the last 15 years has stretched the existing Ringwood Road facilities to the limit with 90 employees working in a building that was designed for 30.
'When we open the doors for business later this year, we will strive to maintain our impressive record for customer ratings in sales, aftersales, parts and accessories – a standard that has consistently seen Poole Audi top the national league of 113 Audi centres.'
Mark Laming, head of business, added: 'I am delighted to finally introduce the press to the new Audi Centre and also to thank our suppliers. To bring such a significant employment opportunity into Poole in the form of the country's largest Audi Centre, one that will serve Audi customers to the very highest standard possible for many years to come, is a significant landmark in Poole Audi's journey.'
MORE: Swansea dealership supplies a magnificent seven PHEVs
MORE: Cambria announces acquisition of JLR franchise in North London
MORE: Dealers have a key role to play, says Autoguard Warranties CEO
On SuperUnleaded.com: Man Avoids Head-on Collision, Rolls His Car Instead