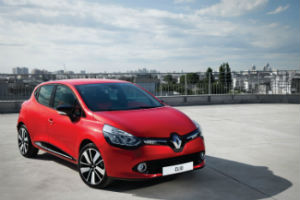 THE CLIO is a hugely significant car for Renault – and now an all-new version is about to hit showrooms. Jon Reay has driven it.
What is it?
Facelift or not, Renault's outgoing Clio has never been a market leader. The current generation model appeared back in 2006 and six years on it's feeling just a little outclassed. This is the brand new model – designed to give the Papas and Nicoles a reason to put down a deposit once again.

What's under the bonnet?
A 0.9-litre turbocharged three-cylinder petrol outputting 90bhp and 135Nm of torque, and managing 62.8mpg on the combined cycle. It's not an engine that feels overly fast but it rarely feels out of breath and even makes quite a nice noise. A new 1.2-litre petrol is also available, along with a 1.5-litre diesel that hits an impressive 88.3mpg combined.

What's the spec like?
Not bad at all. From 'Dynamique' upwards, all come with 'MediaNav' – a touchscreen in the middle of the dash that handles navigation, music and more. Bluetooth integration is standard across the range, as is a USB port and keyless go. Options include a reversing camera and 'R-Link' – an upgrade for MediaNav that can download and install apps, and even send emails or Twitter updates from voice commands.

What's it like to drive?
A big step up over the outgoing model. The new Clio doesn't quite handle with the poise of the Fiesta but it's not far off. Ride quality isn't bad either, while refinement is excellent – keeping road and engine noise minimal all the way up to Italian motorway speeds. Both the 0.9-litre petrol and 1.5-litre diesel engines get our thumbs-up too, remaining quiet yet perky.
Is it any good?
While the new Clio looks smart, the interior quality is a bit of a let-down. The 'Piano Black' plastic feels tacky and attracts fingerprints, while the vents seem flimsy. Lack of visibility over the shoulder is really annoying, too – not helped by the integrated rear door handles. Ride and handling are much improved over the old car, though, and refinement is up as well – the 0.9-litre engine is eerily quiet during motorway cruising.
What do the press think?
The Telegraph says 'really lovely outside, not so lovely inside, but comfortable, spacious and practical', while Autocar reckon 'it'll certainly make you think twice about buying that Fiesta.' Auto Express meanwhile think 'the thoughtful design combines practicality and flair, inside and out, while the huge range of personalisation should be a useful money-spinner', and What Car is happy to praise the new model's 'meatier' steering feel at all speeds.
What do we think?
The Clio has changed rather a lot in its 22-year life and this, the fourth generation, is the most grown-up of them all. It handles better than previous Clios, yet remains refined. We're not fans of the interior, though – in too many places it looks and feels cheaper than the last generation, even with fancy new equipment. Is it enough to put off buyers? No.