MERCEDES-Benz World in Surrey celebrated its 10th anniversary at the weekend.
Since the innovative brand centre opened in 2006, more than three million people have been welcomed through its doors.
The free-to-visit facility at the historic Brooklands race track provides visitors with a fascinating insight into Mercedes-Benz's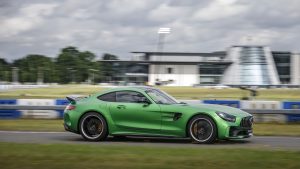 130-year-long history, from the very first automobile in 1886 – the Patent Motorwagen – to the very latest products from Mercedes-Benz, Mercedes-AMG and smart.

On top of this, Mercedes-Benz World offers incredible driving experiences on purpose-built tracks both on and off-road.
Over the past decade, some 430,000 customers have enjoyed these – the oldest driver being 106 years old, and the youngest just three.
In fact, some 30,000 toddlers have got behind the wheel of Mercedes-Benz Bobby cars as part of the Little Learners experience for three- to five-year-olds.
Mercedes-Benz World has also played host to a number of high-profile product launches, including the world premiere of the new Mercedes-AMG GT R this summer.

The range-topping sports car was airlifted to Brooklands before landing in front of the world's media, with Formula One World Champion Lewis Hamilton taking the GT R out on the track.
MORE: Auto Trader adds video to retailer adverts
MORE: Car dealer told to pay out more than £3,200 over parking tickets
MORE: G3 Remarketing planning customer insight event to discuss legal issues
On SuperUnleaded.com: Can The Ford Focus RS Beat The Mustang In A Drag Race?