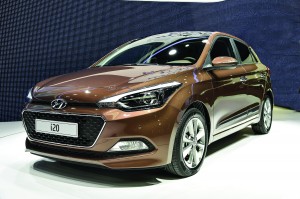 HYUNDAI will soon launch a performance range of cars badged 'N' models – but the manufacturer hasn't yet decided just how hot they need to be.
The manufacturer has confirmed it will introduce the sporty models to its range but it is currently deciding whether they need to take on Ford's ST line or its faster and harder- edged RS line-up.
N badges will first appear on the i30 C segment hatchback and the new i20, which was launched at the Paris Motor Show. It hasn't yet been decided whether it will be rolled out further across the range.

Hyundai president and CEO Tony Whitehorn, speaking exclusively to Car Dealer magazine in Paris, admitted that the Korean firm was currently in a bit of a dilemma.
'Our N range needs to be a seriously powerful type of vehicle,' he said. 'Everyone would want us to do an RS equivalent, but we're not actually going to sell that many RS-type models, so we have to balance out the pure economics.
'With an RS variant, we'd get a halo effect across the range but probably wouldn't sell many,but with an ST-type car we'd get a similar halo effect and sell the volume. That's the dilemma when you get into the debate about going for a ''warm'' or ''hot'' car.'
Whitehorn admitted that the N range would have to stand out and added Korean chiefs were listening carefully to what he had to say as the UK market, alongside Germany, would be one of the biggest for such a model.

Currently the UK chief is concentrating on preparations for what will be an extremely busy 2015 when the manufacturer will totally revamp its range. By the end of next year the oldest car in the Hyundai range will be new i10, which was launched this year.
He said: 'The dealer network needs to get ready for a bow-wave of vehicles.
'Back in 2012 it was the same when we had eight new vehicles all coming on to the market at once. Then we had a facelift in 2013 and one new model in 2014, but next year it takes off. We'll have facelifts and all-new models. The biggest will be all-new i20 and ix35 but the rest will be face-lifted too.'
And if Hyundai's network thought that was good news, Whitehorn said next year was just the start.
'The dealer network needs to get ready for this,' he explained. 'It's a big year next year but that's just the beginning as we have 22 new models arriving by 2017. We've got another 19 models coming through between 2015 and the end of 2017 including whole new models. We will go into new sectors.'
Most likely of those will be a B-segment SUV – to rival the Nissan Juke or Ford EcoSport – which the manufacturer has been planning for some time. Although Whitehorn remained tight-lipped as to whether it will happen or not, he admitted the firm was closely monitoring the segment.
'I think there's an opportunity in the B SUV market,' he said. 'I see it as an opportunity. We're talking about it. We're being a little bit cautious because we are worried it's a fashion thing at the moment. C SUVs will be around for ever, but B SUVs are a bit more of a fashion statement. That's why we are cautious. We're monitoring it very closely and if it has some sustainability then we will be very interested about getting in there.'
Hyundai has sales ambitions of 100,000 units a year. In 2014 the manufacturer will finish between 80-85,000 and Whitehorn believes it is the raft of new product that will drive that growth with a renewed focus on fleet sales.
He's also looking to increase his dealer network from the current level of 160 dealers – which has grown by 30 in three years – to around 170-175 in the mid- to long-term. Wigan, Crawley and the Scottish Borders are the open points he's most keen to fill.
'We're keen to talk to ambitious dealers that want to join the franchise,' he added.
MORE: Digital dealership Rockar Hyundai opens in Bluewater
MORE: Digital decisions: The futuristic dealership with NO salesmen
MORE: Exclusive: Hyundai UK changes staggering 64 per cent of dealers