JAGUAR Land Rover is to build a range of electric cars in the UK, it announced today.
It follows speculation that a decision had been made about EV production and will safeguard thousands of jobs as well as deliver a huge boost to the industry after a series of setbacks in recent months.
Investment will be made at the firm's factory in Castle Bromwich in the West Midlands, with other sites and supply companies benefiting from the development.

An all-electric version of the Jaguar XJ sedan replacement will be the first new battery-powered vehicle, followed by others.
The Castle Bromwich plant will close for six weeks so new equipment can be installed.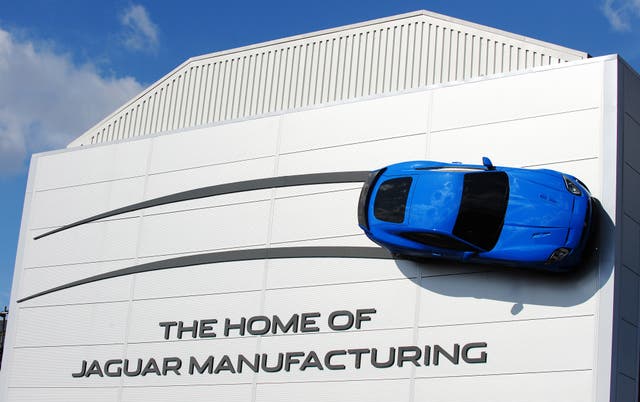 The investment follows an agreement for employees to work a four-day week as part of restructuring plans. The plant, near the M6 in Birmingham, employs around 2,500 workers and the news was confirmed to workers there as production of the current XJ came to an end.
Batteries for the new electric XJ will be made in Hams Hall, Warwickshire, while the electric motors will be manufactured at JLR's engine plant near Wolverhampton.

Ralf Speth, chief executive of JLR, said: 'The future of mobility is electric, and as a visionary British company we are committed to making our next generation of zero-emission vehicles in the UK.'
He added: 'We are co-locating our electric vehicle manufacture, electronic drive units and battery assembly to create a powerhouse of electrification in the Midlands.'
JLR urged the government and industry to work together to bring giga-scale battery production to the UK, making the country less dependent on essential materials obtained abroad.
Speth said: 'Convenience and affordability are the two key enablers to drive the uptake of electric vehicles to the levels that we all need. Charging should be as easy as refuelling a conventional vehicle.
'Affordability will only be achieved if we make batteries here in the UK, close to vehicle production, to avoid the cost and safety risk of importing from abroad. The UK has the raw materials, scientific research in our universities and an existing supplier base to put the UK at the leading edge of mobility and job creation.'
The government and union leaders welcomed the news as a 'fantastic boost' to the car industry.
Recent figures showed that UK car production fell by 15.5 per cent in May compared with the same time last year, a 12th straight month of decline, amid falling exports and a slump in the home market.
Production is down by a fifth since the start of the year, said the Society of Motor Manufacturers and Traders, which has been warning for years about the impact on the industry of a no-deal Brexit.
The industry has been hit by a series of closure and cutback announcements from car makers including:
– Ford, which will close its engine factory in Bridgend, south Wales, with the loss of thousands of jobs
– Honda, which will shut its Swindon plant in 2021, also costing thousands of jobs
– Nissan, which reversed a decision to build its new X-Trail vehicle at its Sunderland plant
JLR has also previously said it will cut jobs to reduce costs
MORE: BMW and Jaguar Land Rover announce electrification collaboration
MORE: Jaguar recalls I-Pace over possible brake issue
MORE: Jaguar Land Rover recalls more than 44,000 cars over emissions