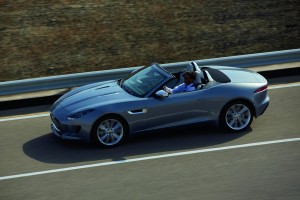 JAGUAR may have only just unveiled the highly anticipated new F-Type to the press, but it's now set to stage a 'ceremonial handover' of the car to its UK dealers.
Staged at the Ricoh Arena in Coventry – Jaguar's historic home town – the event will see 59 Jaguar dealers 'from all over the UK' collect their keys to the brand new cars, which will even be arranged in the shape of the letter 'F' in the arena's car park.
All 59 dealers will then set off in 'spectacular convoy along the A444' – following the final example of the car's 'spiritual successor', the E-Type. Jaguar's UK dealers will take delivery of the 59 cars – set to be used as demonstrators – tomorrow.

Jeremy Hicks, managing director of Jaguar UK commented: 'Ever since Jaguar unveiled the F-TYPE at the Paris Motor Show last September, enthusiasts all over the UK have been anticipating their first encounter with this exciting new sports car. From today onwards they'll have the opportunity to experience the extraordinary F-TYPE for themselves.
'Jaguar is synonymous with Coventry, so it is fitting that we conduct the ceremonial handover to the dealer network in the grounds of one of this great City's landmarks.'
The event isn't the first time Jaguar has lavished money on the launch of the new car – even commissioning a film with the car at its centre. 'Desire', as it's named, has input from big Hollywood names – produced by Ridley Scott associates and featuring Homeland star Damian Lewis.
Want to see what we make of the F-Type? Issue 62 of Car Dealer Magazine will be out soon! Download our latest iPad edition here.

Have you filled in our Car Dealer Power survey yet? It's a great opportunity to have your say, and you could win one of seven great prizes! Click here to enter.