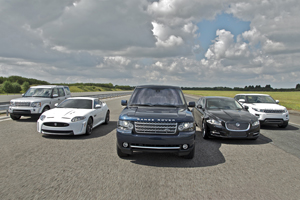 JAGUAR LAND ROVER has reported 'strong' performance in the third quarter of 2012.
The firm's profit before tax hit £404 million in the three month period alone – bolstered by revenues of £3.8bn at the same time. JLR sold 88,658 vehicles during Q3 – a figure its self up 14 per cent against the same time the previous year.
The firm's profit before tax for the nine months up to 31st December also increased – up 20 per cent, now hitting £1.2 billion.

The results are undoubtedly a reflection of the success achieved by models like the XF and Range Rover Evoque – the sales performances of which have been very positive.
The firms' forays into other markets, including building a production facility in Pune, India that produces the Freelander and XF are also likely to have helped – with the booming economy of China in particular proving to offer big sales opportunities for JLR.
'Jaguar Land Rover has produced another solid set of results supported by the continued success of the Range Rover Evoque, launch of the all-new Range Rover and further growth in China and other markets. We continue to invest in new products and technologies to support our aim of profitable volume growth.'