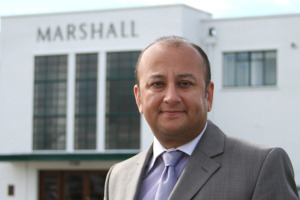 FAMILY-owned dealer group Marshall has been named dealer group of the year by Jaguar – the latest in a long line of accolades the company has received recently.
The group was, in addition, ranked number one in the Jaguar aftersales league on a balanced scorecard basis and the Lincoln Jaguar dealership was ranked fourth nationally for aftersales.
It has been a good few weeks for Marshall, having been recognised with no fewer than 17 separate awards across nine different brands. The group has also been shortlisted in two categories in the Cambridge News Business Awards.

Recently, Marshall has also been ranked number one dealer group by Land Rover for sales in the UK, with its Bedford and Melton Mowbray Land Rover dealerships both being ranked in the top five on a balanced scorecard basis.
A few weeks before that, the group's Mercedes-Benz market area in the north-west was named aftersales retailer of the year, recognising the great progress made by the businesses over the last three years. Marshall also finished third in the Mercedes-Benz CSi programme for aftersales.
Daksh Gupta, chief executive of Marshall, pictured, said: 'These awards are a great boost for the whole business and fabulous recognition for all the members of the teams in all our divisions who have worked so hard over the last few years as we have grown the group through the economic downturn.
'In the last five years, we have more than trebled the size of the business, breaking through the magic £1bn barrier and moved into new markets, with new brand partners. The many new businesses and new colleagues have integrated brilliantly into our culture and values.'

Marshall has represented Jaguar and Land Rover for the last 40 years, although the group's representation of these brands has now increased to nine businesses. The five Mercedes-Benz businesses were acquired in 2010, at which time they were loss making and at the bottom of the important manufacturer league tables. In 2009, Marshall had just one Volkswagen Group business; today it has 15.