After a challenging 2012 the future looks bright, Mitsubishi UK MD Lance Bradley tells James Batchelor.
TALK to any car manufacturer bigwig and they'll use a tried and tested vocabulary. Platitudes such as 'we're in a good place', and 'the future looks bright' have been said by car manufacturer managing directors the world over, often disguising the complete opposite. But with Mitsubishi Motors in the UK, those clichés are not clichés – they're the truth.
This year the Japanese company is the fastest- growing car brand in the UK with year-to-date sales up 44.66 per cent. The firm's return on sales is the highest on record, dealer profitability sits at its highest level since 2006 and the next four years are expected to reap growth figures of 20 per cent a year in car sales. Mitsubishi has even expanded its dealer franchising team to welcome new dealers to the network – and it's this area that the company's MD is really excited about.

'In March 2013 the network stood at 100 dealers and it is now up to 105,' says Mitsubishi Motors in the UK boss Lance Bradley.
'We're looking to expand it to between 120 and 125 because we know that our volume is going to grow. Last year our volume stood at 12,000 and this year it is going to be about 16,000. We know that it's going to expand to somewhere between 25,000 and 30,000 – and for this volume we estimate 120 to 125 dealers and for there to be decent profitability for everybody.'
And dealer profitability has – and always will be – a major pillar of Mitsubishi in the UK. 'We're protective of dealer profitability,' says Bradley. 'Every manufacturer talks about dealer profitability but we really put our money where our mouth is. Every meeting I have, dealer profitability is discussed; even last year, when it was poor, it was still the first thing we spoke about – you can't hide it so you might as well talk about it.
'We are looking for dealers who have a strong focus on their local area and are great with customers'
'In March of this year, we knew our dealers had had a poor year and we found ourselves with a little bit more money than we expected, so we gave it to the dealers. So, with less than a week to go in March, we told them there was an extra amount per unit on everything they had done in that quarter.

We deliberately left it late because I wanted it to be bonus money and not for them to trade with – I don't know of any other manufacturer that does that.'
So what type of dealer does Bradley want to attract? Very simple – more of the same. 'We are looking for small to medium independent dealers who have a strong focus on their local area, have a very high focus on looking after customers, and are able to sell cars and explain why our cars cost more than some rivals' offerings. If you fit that profile, pick up the phone to a Mitsubishi dealer and ask them what they think.
'We are looking for similar dealers to the ones we have. We have minimum standards – we need a showroom of 150 square metres, there needs to be enough used car space to achieve a reasonable mix and a reasonably sized workshop. We are not saying to our dealers we are growing and you need to spend £1m on new premises – they don't.' For Bradley and Mitsubishi Motors in the UK, it's more about the dealership staff and the attitude of the people who work there than how glitzy the dealership is or the colour of the floor tiles.
'The physical facility is not the most important thing about a Mitsubishi dealership – it's the people and premises which need to be clean and tidy,' he explains. 'We don't want rubbish but I've never believed in making dealers change the tiles because they're the wrong colour. No customer ever comes in and says "I really like that car but I can't buy it off those tiles".
'We are on the up and for the next five years our dealers are going to have a good time'
'Customers don't buy Mitsubishis because they're cheap but because they are good and our dealerships need to match that. Some of our nearest competitors are getting their dealers to spend £1m on new premises – that's great news for us because we're picking up those dealers. How can you justify spending that much? You can't.'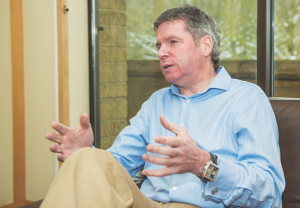 But where has all this positive feeling come from? Experience in knowing the bad times are over, that's where.
'We had a poor year last year and a lot of it was on the back of poor exchange rates,' says Bradley, candidly. 'It got to the point where the factory was not really keen on selling us cars. The exchange rate last year got down to as low as 120 yen to the pound – before 2008 it was 280. That made things really difficult.
'Our margins were hit massively so we couldn't spend so much on our marketing or customer incentives – and not being able to do that affects your competitiveness.'
But Bradley believes in being honest with his loyal dealer network, and last year told them how bad it was. 'I told all of our dealers that 2012 was going to be a tough year and told them to cut back their costs. I told them 2013 was going to be a good year, and they were going to get growth like they couldn't imagine.
'I said there will be a third of you who will believe me and will go back and resource up for it, there'll be a third of you who wait and see for a bit and there will be a third of you who aren't convinced about it. The ones that do it immediately will have an excellent year; the ones who wait and see if it will be all right and the ones who don't will have a poor year.'