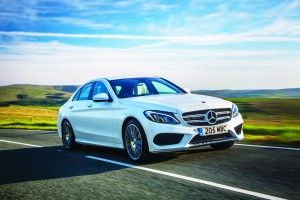 Can Mercedes-Benz finally lead the compact exec sector with its new C-Class? Daljinder Nagra tries it for size.
WHAT IS IT?
The entry point into Merc's saloon car range and one of the firm's most popular models. T

his being the case, the German brand has taken no chances with the new one, making it both sportier and more luxurious, closing the dynamic gap between the benchmark BMW 3 Series.
WHAT'S UNDER THE BONNET?
Efficiency and cleanliness is the name of the game with the introductory range, with the diesels dominating. Buyers will have just two to choose from for now: both are 2.1-litre turbocharged units developing 168bhp in the C220 BlueTEC and 201bhp in the C250
BlueTEC. Currently, there is just the one petrol engine: a 181bhp unit-badged C200. It's unlikely to prove popular, as it offers no real performance advantage over the diesels. Further engines, including hybrids and a hot 4.4-litre V8 AMG version, will join the line-up next year.

WHAT'S THE SPEC LIKE?
There are three trim levels to choose from, of which the range-topping AMG Line (from £30,345) is set to be the most popular, thanks to its beefy exterior design highlights, big wheels and lowered suspension. Buyers won't feel like they're slumming it in basic SE models
(from £26,855), though, as all come as standard with Bluetooth, rear view camera, sat nav, digital radio, auto wipers, cruise control and artificial leather upholstery. Mid- range Sport trim (from £28,850) adds some choice extras, including LED headlamps, heated front seats and active park assist.
WHAT'S IT LIKE TO DRIVE?
Because it apes the stately look of its bigger brother S-Class, you approach the new C expecting it to have the same slightly barge-like approach. The reality couldn't be further from the truth. There is a new-found sense of athleticism and light-footedness, which, mated to the accurate steering, makes the C-Class an entertaining car on a cross-country dash. Ultimately, it doesn't feel as tied down as the 3 Series, with noticeable roll in some corners. The one fly in the ointment, though, is the engine range, which feels strained.
WHAT DO THE PRESS THINK?
Autocar said: 'The overall impression of this particular new C-Class is that it is a brilliant car powered by a so-so engine. With a couple more cylinders beneath the bonnet, though, I'm sure the genius within will be revealed.'
WHAT DO WE THINK?
The new model boasts both a hugely upmarket cabin and has been pitched in just the right way to appeal to both the existing Mercedes drivers and younger newcomers to the brand. The perennial thorn in its side, the BMW 3 Series, is still the leader dynamically, but the C-Class may just be enough to win over the 3 Series faithful.