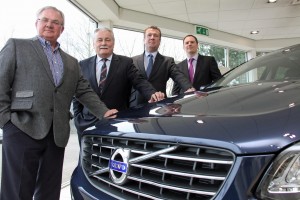 A DEALER group is looking forward to marking 50 years of selling Volvo cars.
Mill Garages North East joined forces with the Swedish car maker in March 1965 and has since grown into the biggest Volvo dealer in the UK, selling close to 3,000 new Volvos a year from showrooms in Newcastle, Sunderland, Stockton and Harrogate.
The launch of the all-new XC90 sports utility vehicle in early summer and the start of a significant refurbishment programme across the Mill group are expected to contribute towards a year of substantial growth.

The company has also announced its financial results for 2014 which reveal turnover of £98m and profit before tax of £803,497, continuing a positive trend since owners, managing director Bill Ward and chairman Bob Nicholson, led a management buyout of the business in 2008.
Ward said: 'Our results are again good news for the business, the north-east and North Yorkshire and we're delighted the positive momentum is continuing into 2015.
'We are extremely proud of our 50-year partnership with Volvo and to have grown and developed in the region, where Mill has become synonymous with the Volvo brand.'
Ward, the face and voice of television adverts in which he urged customers "Now is the time to choose Volvo", said the company expects to sell its complete allocation of the new XC90 this year.

Finance director Simon Hewitson said the new model would add to the company's encouraging first quarter, building on seven years of profitable growth.
He added: 'We will be investing £500,000 into our Stockton dealership later this year to bring a new retail experience to our customers, and are looking forward to further growth.'
Mill Garages, which employs 176 people, was established in 1947 by George Rollings, close to the windmill in Newcastle Road, Fulwell, in Sunderland. Bill Ward, who has been in the motor industry since 1978, took over the reins in 1993.
Picture shows Bob Nicholson, Bill Ward, operations director Jeff Tabb and Simon Hewitson mark 50 years in their showroom.
MORE: Sytner McLaren salesman wins bravery award after high-speed crash
MORE: Advertising on RAC Cars is now free for all dealers
MORE: Gordon Lamb's knockout appointment
On superunleaded.com – Bike Cop Gives Top Tips For Staying Safe On Two Wheels