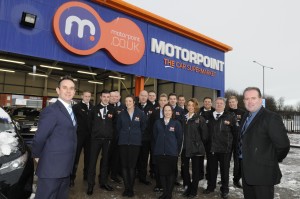 MOTORPOINT has opened its latest branch in Widnes.
The car supermarket company spent more than £1 million transforming the six-acre former Motor Nation car dealership, situated next to the A557, into its eighth site.
And Motorpoint Widnes got off to a flying start selling more than 40 cars, worth close to £500,000, to customers from across the North West on its opening weekend – despite the weather.

Motorpoint Widnes, which recruited the vast majority of its 50-strong workforce from the local area, stocks 450 new and nearly-new low-mileage cars from more than 30 different manufacturers, with instant access to a further 5,000 vehicles in group stock.
Conveniently located close to both Widnes town centre and J7 of the M62, the site features extensive free parking, free wi-fi and a café open seven days a week.
Explained Kevin Cartwright, general manager of Motorpoint Widnes: 'We have been absolutely delighted with the response from customers since opening our doors for the first time on December 27.
'Although the weather was atrocious, with sub-zero temperatures, customers from across the North West flocked to our new site.'

Motorpoint now has eight sites in the UK – Birmingham, Burnley, Chingford, Derby, Glasgow, Newport, Peterborough and now Widnes.
Our picture shows Kevin Cartwright with Simon Robertson and the sales team at Motorpoint Widnes