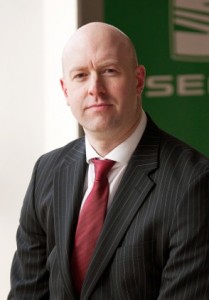 CIAN O'BRIEN is to join Audi UK as its new head of sales operations on September 1.
The 36-year-old succeeds Paul Sansom, who has been promoted to the role of managing director of Audi South Africa.
Cian, a native of Cork in Ireland, moves to this new Milton Keynes-based role from his current position as director of Seat Ireland, where he has overseen a period of significant success. The business was Ireland's fastest-growing car brand in 2013.

In a varied career spanning 15 years, he has also held the position of aftersales manager and fleet and used car manager for Audi Ireland. In addition, he brings with him extensive retail automotive experience having worked with Renault, Lexus, Audi and Nissan in a variety of management positions.
Andre Konsbruck, director of Audi UK, said: 'Paul leaves Audi UK sales in terrific shape and we are very grateful for his tremendous contribution to our success.
'Under his leadership in various management roles over the last eight years, Audi UK achieved numerous record results in both sales and aftersales. We wish him plenty of success in his international assignment.
'We are excited about Cian joining our team as he brings a real depth and breadth of experience and we feel he is the right person to continue to lead our ambitious sales plans.'