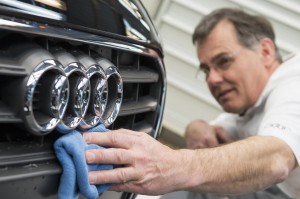 THE Audi Group delivered more than 900,000 vehicles to customers worldwide between January and June – its best-ever six-month total.
The company increased its revenue to 30 billion euro and its operating profit to 2.9 billion euro. It achieved an operating return on sales of 9.8 per cent, at the upper end of its strategic target corridor of eight to 10 per cent. 
At the presentation of the half-year interim report, chairman of Audi's board of management Rupert Stadler said strong demand continued for the company's products, although important models were about to be replaced by the next generation.

With an increase in unit sales of 3.8 per cent in the first half of the year, Audi is on track to set a new record in 2015 for a full year.
The Ingolstadt-based manufacturer delivered 902,389 cars in the first six months of this year, compared to the 2014 total of 869,357. The A3, Q3 and Q5 are particularly popular with customers worldwide.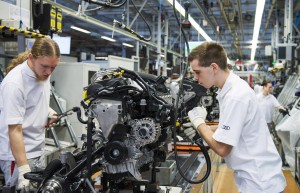 Between January and June, the Audi Group generated total revenue of 29,784 million euro – in 2014 the total was 26,690 million, an increase of 11.6 per cent.
The company achieved profit before tax of 3,150 million euro for the first half of 2015, compared to 3,102 million a year ago. Profit after tax amounted to 2,429 million euro.

Axel Strotbek, a member of Audi's board of management and responsible for finance and organisation, said: 'We are deliberately making large investments in new models, technologies and production capacities, which will pay off in the medium and long term.'
In the biggest investment programme in Audi's history, by 2019 a total of 24 billion will go to new models, new technologies and the continuous growth of the worldwide production network.
This year, Audi has taken on more than 2,000 new employees and plans to recruit about 4,000 people in Germany alone by the end of 2015. Worldwide, Audi intends to expand its workforce with approximately 6,000 new employees by the end of the year.
MORE: Entrepreneurs to launch free classified business on old Carcraft web domain
MORE: Supercar dealer calls for common sense over anti-social laws to combat super-rich London boy racers
MORE: NextGear Capital Report: Dealers are embracing new technology
MORE: Porsche announces record half-year figures
On superunleaded.com – Watch Tom Cruise Destroy A BMW M3 In The Name Of Hollywood