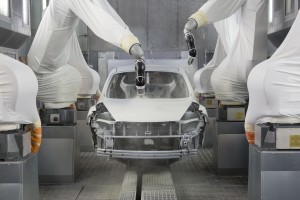 FIVE years after inventing the small crossover, Nissan today announced that a new-generation Nissan Juke is slated for production in the UK.
The estimated £100m investment is a further endorsement of the quality of output from the Sunderland plant, and a statement of Nissan's intention to remain the undisputed crossover leader.
Following the launch of the second-generation Nissan Qashqai in 2013, future Juke allocation points to a secure future for both production lines in Sunderland and the jobs of 34,000 people currently employed by Nissan and its British suppliers beyond 2020.

Nissan Europe Chairman, Paul Willcox, was today joining colleagues in Sunderland to celebrate the announcement.
Willcox said: 'The Juke's unique design is one of the reasons Nissan is now the undisputed crossover leader, underpinning five consecutive years of sales growth in Europe.
'With the next-generation Juke now confirmed for future production, customers can be assured that Nissan is going to remain the benchmark in the crossover segment for many years to come.
'This announcement also gives security to our Sunderland plant beyond 2020, which the team has earned through many years of hard work and their ability to continually raise the bar on quality.'

Giving a further boost to the UK car industry, Nissan's European design team in Paddington, London, and European Engineering Headquarters in Cranfield, Bedfordshire, will be instrumental in the development of this new model – ensuring the European customer needs and taste are incorporated into the second-generation Juke.
Chancellor George Osborne said: 'It's fantastic news that Nissan will be building their new car in Sunderland and securing valuable jobs for thousands of working people in the area.'
While Unite, the country's largest union, said the news was 'another positive step in the renaissance of the British car industry'.
Refreshed in 2014, the Juke is now offered with personalisation options and a host of technology and styling features.
Nissan is now the biggest carmaker in the history of the UK car industry, with annual output exceeding 500,000 in each of the last three years and currently includes the Nissan Qashqai, Juke, Note and all-electric LEAF.
Nissan employs nearly 8,000 people in its UK design, engineering, sales and manufacturing operations, supporting an additional 27,000 jobs in the UK supply chain plus 3,900 in dealerships.
MORE: Peter Vardy sees sharp acceleration in sales and profits
MORE: Are you the best mid-size dealer in the country?
MORE: Kia announces plans for standalone hybrid model
On Superunleaded.com: Could these cockpit loops be the future of F1 driver safety?