HAVE you made your nominations yet for our Used Car Awards?
It's the biggest event of its type in the automotive industry and brings in hundreds of entries, with everyone understandably eager to take home one of our coveted trophies, so it's crucial that you get your nominations in – and soon.
If you think you do things better than the rest, then isn't it about time that you got some recognition for all your hard work?

Our Used Car Awards recognise those dealerships that go above and beyond, and having a Used Car Award winner banner shows your customers that you are without a doubt the best and can be trusted to look after them – and if you don't believe us, just ask Ross Quirk, the boss of Quirks Car Company in Wickford, Essex, who last year carried home the trophy for Used Car Dealership of the Year (50 to 100 Vehicles), a category that was sponsored by Black Horse.
He said: 'I was over the moon to win it. As a team, we put in so much effort to make the business a success, so there's no greater achievement than to be rewarded like this.

'This is definitely a great award to have because it shows customers who may not have come across us before that we're a dealership that looks after people, and that's important when they may be choosing between us and a competitor. It gives us credibility and it gives them confidence.'
The dealership has been proudly using our Used Car Awards logo in its branding to shout out about its success, and Quirk said: 'Since winning the award, we've just had our best financial year in the 13 years we've been in business, so I feel it's done us a lot of good 100 per cent – which is why we'll be entering it again.'

This year's Used Car Awards are being held at The Brewery in London on November 30 and will be hosted by TV's Wheeler Dealer himself, Mike Brewer.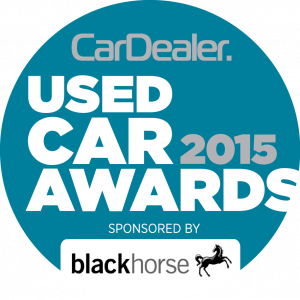 All the categories are listed here, so make sure you get your nominations in now, which you can do very quickly and easily via this link. The closing date is October 22, and you can order tickets for the black-tie event using the above link, too.
The shortlists will be drawn up by our panel of judges, headed by Brewer, so please give as much detail as possible about why you're making your nomination, to help them decide.
This really is THE big night in the used car industry. It's the fourth year that we've held the Used Car Awards, and they've gone from strength to strength.
The awards, which have the hashtag #UCAwards, celebrate and recognise all the different areas of this vital backbone of the motor industry. From the smaller independents to the larger groups, every dealer who has an involvement with the used car business can take part.
Make sure you get your nominations in now. It may seem like a long way off, but you don't want to forget and miss out. After all, as the saying goes, you've got to be in it to win it!
MORE: Kia announces plans for stand-alone hybrid model
MORE: New 65 plate success painting false picture, says Glass's
MORE: New MD at Motors.co.uk as changes made to leadership team
On SuperUnleaded.com: Junction has 42 sets of lights, we'd go the long way