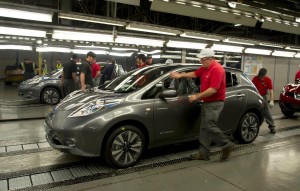 NISSAN has begun producing the Leaf electric vehicle at its plant in Sunderland, Tyne and Wear. 
The Leaf, which recently underwent a refresh incorporating 'more than 100 updates', started rolling off the Sunderland production line today – joining the Juke and Qashqai, which have been produced at the plant for some time.
Leaf production at the plant is the result of a £420 million investment by Nissan, with the the firm now even producing the car's batteries in this country.

Nissan's electric car is just one in a long line of vehicles that have been manufactured at the plant. Since its opening in 1986, Sunderland has made more than seven million cars – producing over half a million last year alone.
Sunderland will likely produce Europe's share of Leafs, with two other factories – one in Oppama, Japan, and another near Nashville, Tennesee in the US – producing cars for Asia and North America.
'Nissan's record breaking year last year is a success story for UK volume car manufacturing and demonstrates how our automotive industry is competing and thriving in the global race,' said Prime Minister David Cameron.
'I warmly welcome the production of the new electric LEAF model and battery plant at Sunderland. This £420 million investment, backed by Government, is supporting over 2,000 jobs in our automotive sector including more than 500 at Nissan in Sunderland, helping people in the area who want to work hard and get on.

'The Government has committed £400 million to make the UK a leading market for ultra low carbon vehicles. Nissan's announcement shows the confidence the company has in the skills-base and the business environment in the UK and that the UK is open for business.'