ALMOST before the doors had closed on CDX16, Car Dealer Magazine started planning CDX17.
It's difficult to imagine how the scale and content of CDX16 could be improved upon. The 5,500 square metre halls of Silverstone's impressive Wing complex – overlooking the pitlane for the British Grand Prix – packed in more than 100 exhibitors from across the industry, with nearly 3,000 delegates signed up to take in all that was on offer.
However, there's no doubt that CDX17 will be bigger and better still. Amy Duff, events manager at Car Dealer Magazine, said: 'We have already sold 30 per cent of stands for CDX17.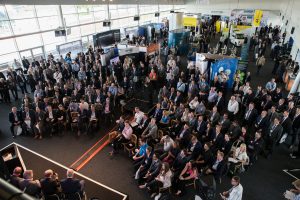 'Demand is up again for next year, even on top of the impressive response we had for CDX16.'
Even without considering the high calibre of exhibitors, CDX16 was a visually breathtaking event. Hugely ornate and complex stands were built over the course of the previous day by many of the brands, with headline sponsor GForces' Plaza dominating Hall 2 and looking for all the world like a set from 2001: A Space Odyssey.
Online new car site carwow had an imposing presence in one of the mezzanines, with two-metre tall letters advertising itself to the crowds below, while Auto Trader even included a golf driving range simulator.
Other exhibitors brought along some interactive entertainment too, with a giant Scalextric rig and racing simulators dotted around the halls – some even offering prizes.

Amy added: 'It's incredible how the exhibitors seem to outdo themselves year on year.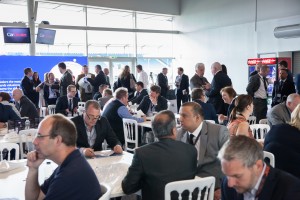 'CDX15 was a spectacle, but CDX16 outstripped it in every way and CDX17 promises to be even more breathtaking.
'There's never any shortage of things to do and see at CDX. We don't yet know what many of our exhibitors have got planned for next year's event, but if previous years are anything to go by there'll be more going on than one person can reasonably do in a single day!'
This year's event offered unrivalled networking opportunities too, with Google, Facebook and Twitter all in attendance and giving keynote speeches on the Car Dealer Live Stage. The stage also hosted a pretty feisty Brexit debate, along with discussions involving manufacturer heads, dealer bosses and the SMMT.
Amy noted: 'The live stage forms an important centrepiece, with figures from key companies, industry bodies and groups giving their opinions on the state and future direction of the car industry. We have more speakers lined up for 2017 who'll provide fascinating insight and thought-provoking comments.'
In the workshop areas, delegates could find talks and presentations from video experts CitNOW, industry legal firm Lawgistics, leading provenance body cap hpi and the RAC – which held its very first dealer conference at the event.
Amy added: 'There's something for everyone in the workshops. 2016's workshop programme was expansive and very well received by attendees, and we think that the schedule for 2017, with a new and improved format, will be even more of a draw. Watch this space!'
MORE: Almost all motor insurance claims are successful, figures show
MORE: Fred Henderson is latest addition to MG dealer network
MORE: Jaguar previews electric vehicle future with new I-Pace Concept SUV
On SuperUnleaded.com: 10 Of The Best Car Interiors We Have Ever Seen