JAGUAR has pulled the covers off its all new I-Pace Concept SUV, previewing what the company's first-ever electric vehicle will look like.
The I-Pace Concept is being pitted as an electric performance SUV, combining the silhouette of a supercar, the driving characteristics of a sports car and the practicality of a five-seat SUV.
Jaguar claims that the all-electric SUV is capable of travelling more than 310 miles on a single charge, meaning customers should only need to charge the vehicle once a week – considering the average daily commute is between 24-31 miles.
Because of this superior range, Jaguar is confident that the production version of the I-Pace will be able to be used as a primary car, rather than in conjunction with a traditional petrol or diesel-powered vehicle.
Electric motors at the front and rear axles give the I-Pace Concept a combined power output of 395bhp and 700Nm of torque, allowing it to accelerate 0-60mph in around four seconds.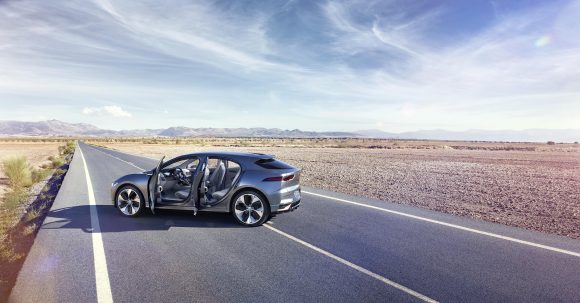 Ian Callum, Jaguar's director of design, said: 'The I-Pace Concept is a radical departure for electric vehicles. It represents the next generation of battery electric vehicle design.
'It's a dramatic, future-facing design – the product of authentic Jaguar DNA matched with beautiful, premium details and British craftsmanship.
'This isn't just a concept. It is a preview of a five-seat production car that will be on the road in 2018. This will be Jaguar's first-ever battery-powered electric vehicle and opens a new chapter in the history of our legendary brand.'
The I-Pace Concept boasts a 530-litre boot, as well as an additional eight-litre storage space in the centre console – made possible by the absence of a transmission tunnel. A "cab-forward" layout that was inspired by the design of the C-X75 supercar helps to create an interior that Jaguar claims is far larger than that of vehicles powered by a traditional internal combustion engine.
Jaguar designers were given a brief of creating a performance SUV that could comfortably seat five people.
Commenting on this creative freedom, Matthew Beaven, chief advanced exterior designer, said: 'With that freedom comes a lot of challenges. You've got a clean piece of paper, but you don't want to go too far in one direction that you alienate potential Jaguar customers.
'You also sometimes find that when you go too far with a design you date it very quickly. We want to design a car and in 20 years' time it will still look nice and it will still be relevant. We don't want a fashion statement. It's about trying to find a balance.'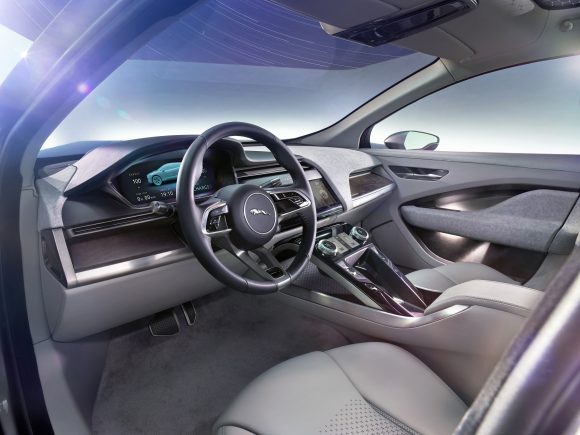 Also new on the I-Pace Concept is Jaguar's "flightdeck" approach to the layout of the controls interface. This design philosophy ensures controls are all within easy reach of the driver, and also utilises technology that 'promotes driver engagement'.
A floating centre console houses a small, 5.5-inch touchscreen as well as aluminium rotary dials that are used to control the infotainment system and air conditioning. This leads up to a large, primary 12-inch TFT touchscreen on the dash, which displays information from the infotainment system and vehicle settings.
Another large digital display has also replaced traditional speedometer and rev counter dials.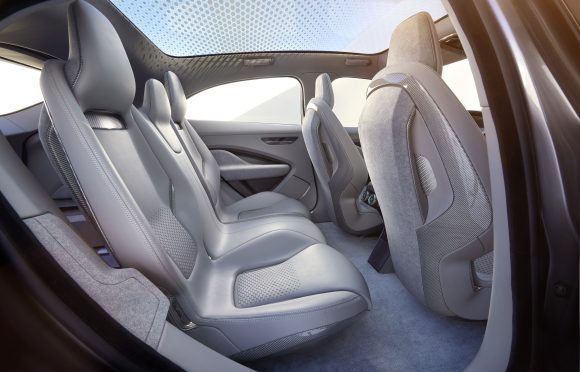 In terms of charging, Jaguar claims that it will take just 90 minutes to reach 80 per cent charge, if the I-Pace is plugged into a 50kW DC charging source. It will take two hours for the car to reach 100 per cent.
A production ready version of the I-Pace will be unveiled in 2017, with the first customer examples hitting the road in the second half of 2018.
Adam Hatton, chief designer at Jaguar, said: 'We feel it's the perfect time to launch this car because the market is just starting to mature.
'The charging infrastructure is getting better and better, there will be loads more charging stations – especially in London – in the next year or so. It's really going to start happening big time.'
In terms of the car's recyclability, Hatton also mentioned there was a possibility that the I-Pace's battery packs could be recycled and reused in home charging units.
Jaguar has projected that the North American market will account for 50 per cent of I-Pace sales when it is put into production, with China and Europe accounting for 25 per cent of sales each.
MORE: SUV demand ramps up as winter weather arrives
MORE: Lexus leads the way at Prince's Trust fashion dinner
MORE: Vertu Honda Grantham marks 20 years with showroom refurbishment
On SuperUnleaded.com: How Did The Grand Tour Spend Its £160m Budget?