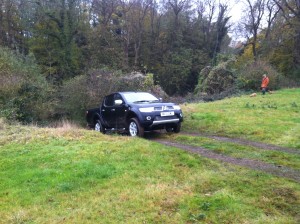 DOZENS of customers of a Peterborough car dealership enjoyed an action-packed day of activities yesterday – including off-road driving, archery and clay pigeon shooting.
The day, staged by Unity Automotive, was designed to draw attention to the capabilities of the cars made by the manufacturers it represents: Mitsubishi, Isuzu and Ssangyong.
And it was a resounding success, with the off-road adventures and a reversing contest proving among the most popular pursuits.

Many customers took their children along to the event at Grange Farm, Wittering Grange, and there was plenty for them to do too, with an indoor bouncy castle and giant Wii game to keep them entertained.
The Unity Automotive team regularly use Grange Farm to demonstrate the capabilities of the cars they sell. A major equestrian centre, it hosts weddings, corporate events and other events too.
Demonstration circuit
Managing Director Jon Mathers explained: 'If we've got somebody who wants to have a test drive and really see what a particular car is capable of doing, we can use the course here as our demonstration circuit.
'On the way, the customer will be driving on A roads, B roads and so on – and then here of course, they can drive the car off-road. It's a great sale closer and also gives a potential purchaser added confidence when they see what a car is capable of.'

Mitsubishi is a fairly recent addition to the Unity portfolio and Mathers said he was pleased with the way things were going with the brand, well-known for vehicles offering four-wheel driving such as Outlander, L200 and Shogun.
He told Car Dealer: 'The aftersales has got going quite rapidly and we're well on target with car sales. We are making some good progress so we are very happy.'
Also present at yesterday's event was David Best, Mitsubishi's area manager for the East Midlands and East Anglia. He said: 'There's a great deal to be gained from organising an event like this. Our cars lend themselves to off-road driving and today has given plenty of people the chance to find out what they can do.
'It's exactly the sort of thing we want to encourage dealers to do with their customers.'